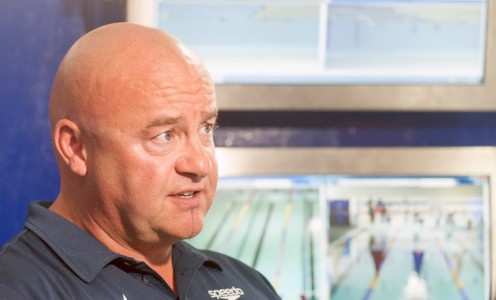 David McNulty, who has guided swimmers to Olympic, World and Commonwealth success during his ten years based at the University of Bath, has given his support to a national campaign promoting positive mental health across the UK's high-performance system.
The education programme, led by UK Sport and the English Institute of Sport (EIS), will be delivered to all 43 UK Sport funded sports and aims to reach all 1,200 athletes on world-class programmes.
More than 20 workshops have already been delivered as part of the education programme which also aims to promote positive mental health amongst coaches and support staff, and encourage them to develop self-care strategies in the run-up to Tokyo 2020.
McNulty, lead coach of the British Swimming National Centre Bath, participated in the recent workshop with British Swimming and knows the importance of a strong and supportive coach-athlete relationship.
"I speak to my athletes every day – I ask them how they're doing, how are things away from the pool?" said McNulty, who has worked with the likes of Michael Jamieson, Jazz Carlin, Siobhan-Marie O'Connor and Chris Walker-Hebborn since the high-performance swimming programme was established in Bath in 2009.
"Mental health is an important issue so it is extremely helpful that sports across the high-performance system have access to this expertise and best practice which enables them to develop their own measures for promoting positive mental health and also allows them to get help and specialist assistance to support any of their athletes that are facing difficulties.
"The education workshop was a very positive experience and has helped us, as a group of coaches, support staff and athletes, to talk more openly about mental health and for us to understand we all have mental health. This benefits everyone on a personal level and in relation to their role on the world-class programme."
The programme of mental health education is available to all funded sports in the lead-up to Tokyo 2020 Olympic and Paralympic Games and will be delivered through a series of workshops, in conjunction with applied psychologists from Changing Minds UK.
The workshops share best practice developed by EIS Psychologists and Performance Lifestyle Advisors on ways that coaches and Performance Directors can promote and facilitate positive mental health on their programmes and provide advice and guidance on techniques and strategies to enable people to maximise their wellbeing.
Psychologists and Performance Lifestyle Advisors that work with the sports on a day-today basis have inputted into the development of a number of the workshops to ensure they reflect the individual characteristics of the sport.