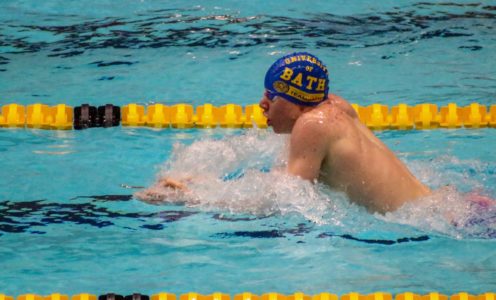 University of Bath sporting scholar Tom Dean and team-mate James Guy both struck gold for British Swimming on the opening night of the Mare Nostrum in Canet, France.
Mechanical Engineering student Dean, who is supported by a Bill Whiteley Scholarship and is a MJ Church Ambassador, delivered an extremely mature performance to win the men's 200m freestyle final from lane eight in 1:47.39.
"I changed my plan a little bit as 200m freestyle is such a tactical game but I just gave it a bit more oomph from the start and it paid off," said Dean, who trains in the University's Olympic-sized pool with the British Swimming National Centre Bath.
"It's tough in the outside lane as you can't see people as much but luckily on the second and fourth 50m I was able to get a view of where the rest of the field were and judge it."
Guy also impressed in the men's 100m butterfly final, touching the wall first in 51.86 – more than a second faster than he had gone in the heats.
University of Bath graduate Anna Hopkin, who was part of Mark Skimming's student swimming squad, continued her excellent adaptation to the international stage as she finished runner-up in the women's 50m freestyle in a rapid time of 24.89.
Siobhan-Marie O'Connor was fourth in the 200m individual medley in 2:11.58.