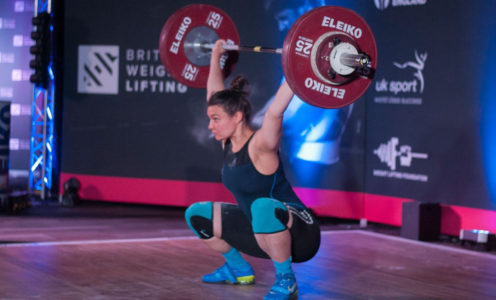 Emma Collins-Jones, who trains in the Team Bath Gym & Fitness Centre, has been crowned as British Weight Lifting Champion for the first time in her career.
The University of Bath Sport & Exercise Science alumna followed up her bronze medal in 2017 and silver in 2018 by taking top spot in the women's -76kg category at the Ricoh Arena in Coventry.
Collins-Jones, who is coached by Giles Greenwood and represents Oaklands Weightlifters, lifted 86kg in the snatch and 97kg in the clean and jerk for a combined winning total of 183kg.
She first started weightlifting during her placement year and went on to win the British University Championships in 2015, the year that she graduated.
Collins-Jones has continued to train at the University since, lifting four days a week, and also teaches yoga and pilates in the newly-extended Team Bath Gym & Fitness Centre. They are among up to 100 fitness classes that take place every week – click here to find out more.