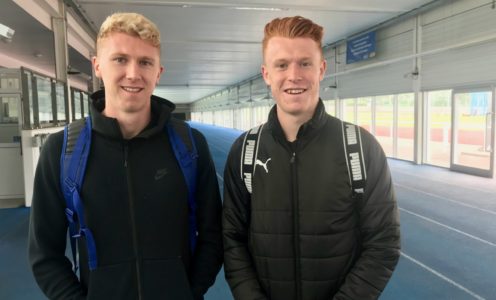 After winning national titles within hours of each other, University of Bath brothers Cameron and Alastair Chalmers are ready to take on the continent's finest as the European Athletics Championships take place in Sweden.
Sports Performance graduate Cameron is first up at the European U23s, which get under way in Gavle on Thursday (July 11). His 400m heat is at 11.20am BST that day, followed by the semi-finals on Friday (3.35pm BST) and final on Saturday (5.32pm BST).
Cameron is also competing in the men's 4x400m relay on Saturday and Sunday, an event where he anchored Great Britain to gold two years ago in Poland.
"I have two goals this summer – the European U23s and the senior trials, with the aim of getting in the World Championships team," said Cameron, who has represented GB at senior level at the Berlin 2018 European Championships and this year's IAAF World Relays in Japan.
"I don't think I'm exactly where I want to be at the moment in terms of times – I'm running 46.04 and I'd like to have a couple of 45s under my belt already – but if I can pull that out at the Europeans U23s then that is what matters.
"It is a long season this year, with the Worlds not until late September, and I have taken my time a bit more. As long as I stay fit and healthy, I'm confident the performances will come."
Younger brother Alastair, a King Sporting Scholar who has just completed the first year of a Sports Performance degree at Bath, will then take centre stage next week when Boras hosts the European U20 Championships from July 18-21.
The 400m hurdler set a new British age-group record of 50.07 last month and is hoping a good performance at these championships could be a springboard to even bigger stages.
"Coming into the season, I spoke to my coach and we set our targets on winning the European U20s in a good time," he said. "After that I will see where I am.
"The World Champs qualifying time is 49.3, which is quite tough, but I will just push as hard as I can. I really want to get low 49s so I can look at going to the Olympics next year, which would be an absolute dream."
Both Alastair and Cameron are originally from Guernsey and moved to Bath to combine study and training as part of James Hillier's coaching group.
"Coming to Bath has been really different to Guernsey but I am loving every moment of it," said Alastair. "I've been living in halls on campus and it's been great making new friends, and I love being part of this training group.
"It comes with a price – I don't get to go home as much as I'd like as it would mean having to sacrifice training – but I get so much support from everyone, both here and back home."
Cameron believes the move has already had a significant impact on his brother's athletics career, saying: "For a hurdler like Alastair, a big part of improving your time is running a faster 400m flat so being in a group with a bunch of guys who are quicker than you is going to push you on to be a faster runner."