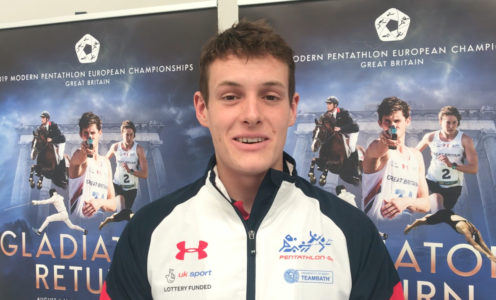 They study and train at the University of Bath – now three members of the British squad for the 2019 Modern Pentathlon European Championships are getting ready to compete there too.
Charlie Follett, Oliver Murray and Myles Pillage will all gain valuable experience on the senior stage when they represent Pentathlon GB in the relay competitions, which start the continental championships on Tuesday and Wednesday.
Biochemistry student Pillage, who is supported by a Trendell Sports Scholarship, will team up with World Junior Championships silver-medallist Kerenza Bryson in the mixed relay on Tuesday.
He will then join forces with Electronic & Electrical Engineering student Murray, making his senior debut, in the men's relay on an action-packed Wednesday which also sees Psychology student Follett compete alongside Zoe Davison in the women's relay.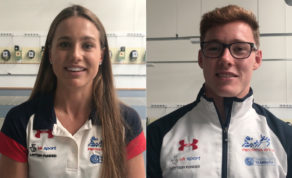 "I live here, study here, train here, do everything here so to compete here as well will be quite special," said Pillage. "It will be my first time experiencing the crowds here and I'm really looking forward to it.
"We'll be looking to put in some solid performances and hopefully chase after some medals. This is my last year as a junior and to get these senior relays under my belt is invaluable in terms of experience."
Team Bath Dual Career athlete Murray (pictured top), who was a spectator when the University last hosted the European Championships in 2015, said: "I am absolutely thrilled to be selected. I'm the youngest athlete in the team and it is a pleasure to compete with some of the guys that I have been looking up to for the past few years.
"Myles and I get along really well – we're team-mates, we're good friends, we're eating partners, we go to the library together. I'm really looking forward to competing alongside him."
Follett, who is supported by Santander Sports Scholarship, said: "I can't wait. It's my first year as a senior and it's great to get any kind of experience, so to be competing at a European Championships is fantastic.
"We are here 24/7, whether it is for lectures or training, so to be able to compete in the same environment is very exciting."
Six University of Bath alumni – Joe Choong, Sam Curry, Tom Toolis, Kate French, Jo Muir and Jess Varley – are also in the squad and will compete in the individual events later in the week.