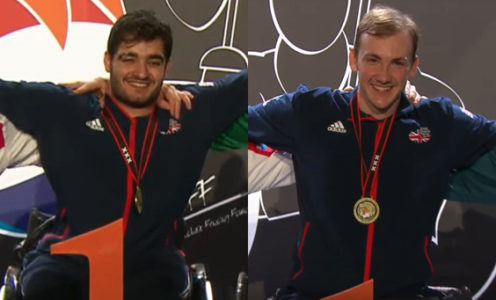 University of Bath-based Wheelchair Fencing World Champions Dimitri Coutya and Piers Gilliver finished 2019 on a suitably high note as they won three more gold medals between them at the IWASF World Cup in Amsterdam.
The results mean the remarkably-consistent duo have won medals in 19 of the 20 events they have contested at five World Cups this year – nine gold, five silver and five bronze – as well as two gold, one silver and one bronze at the World Championships.
Coutya dominated the Category B competitions once again, taking both the foil and epee titles to ensure he goes into the Tokyo 2020 Paralympic year comfortably ranked world number one in both disciplines.
The foil competition saw Coutya avenge his World Championships final defeat to Yanke Feng by beating him 15-10 in the semi-finals before overcoming another strong Chinese fencer, Daoliang Hu, by the same score to secure gold.
Coutya was equally dominant in the following day's epee competition and conceded just 29 hits in his four knockout rounds, wrapping up the title with a 15-5 victory over Russia's Alexander Kuzyukov.
Gilliver also continued his excellent form of 2019 as he won Category A epee gold, emulating the success he enjoyed at September's World Championships by beating Maxim Shaburov 15-9 in the final.
The first day of competition in Amsterdam had seen Gilliver win bronze in the sabre, narrowly losing out 15-11 in the semi-finals to eventual champion Jianquan Tian of China.
Gilliver and Coutya are coached by Peter Rome in the fencing salle at the University's Sports Training Village. The Wheelchair Fencing World Class Programme is managed by the EiS (English Institute of Sport), which has a high-performance centre at the University. Click here to find out more.