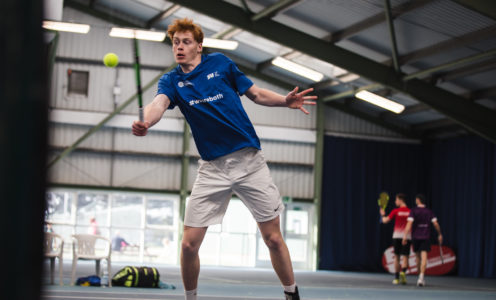 Sporting scholar Ben Jones believes that training and studying at the University of Bath has taken his tennis to another level after being selected to represent Great Britain at the world's biggest student team tournament for a second year.
The Chemistry student, supported by a Buchan Jones Sports Scholarship, is heading to Grenoble, France, this week as part of a six-strong British team determined to recapture the Master'U BNP Paribas title.
He was in the squad that reached the final for a second successive time in 2018 but while the United States were able to avenge their defeat from the previous year, Jones thoroughly enjoyed the experience and is looking forward to taking on the world once again.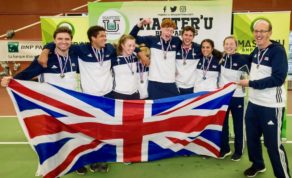 "It was probably the highlight of my tennis career so far," he said. "It's unusual in tennis to be part of a team event, normally I'm travelling and competing on my own, so it was great to be a part of that and I enjoyed it a lot.
"We went into last year's competition as defending champions but nearly lost in the first round to France. We were 3-2 down but I won my men's doubles to level the scores, then five minutes later was back on court for the mixed doubles shoot-out which we also managed to win. It was a bit of a baptism of fire but it worked out really well.
"We've won bronze, gold and silver during the past three years and we've had medallists at the last four editions of the World University Games, so that shows the quality of student tennis in this country. We should be challenging for a medal again at the very least, if not winning the whole thing.
"The American team this year potentially has someone who played at the US Open, so their level is really strong, but we have players who took part in Wimbledon qualifiers and who won a silver medal at the World University Games. The quality is unbelievable and it is really competitive."
Jones says his game has improved significantly since moving to Bath in 2017 to combine a Chemistry degree with training at the Team Bath Tennis International High-Performance Academy.
"I can't speak highly enough of the coaches here, they have all been amazing," said Jones, who is coached by Ian MacDonald, Craig Procter and Director of Tennis Barry Scollo – the latter will once again be part of the GB coaching team at the Master'U BNP Paribas tournament.
"Before I came to Bath I took a gap year to play full-time. I had a good year but I realised once I came to Bath how much better the attention and coaching was, just the whole feel of the tennis centre, and I feel like I have got a lot better despite playing less tennis with my academic commitments. That is a credit to the coaches here.
"I'm in the third year of my Chemistry degree and it's pretty hectic but my academic tutor has been really helpful in finding a balance and my tennis coaches are all very supportive too. I get a lot of great feedback from them and anything that needs addressing is addressed straight away.
"That's why I'm really proud to be going to France as a Team Bath player. This is the fifth year running that a student from here has been selected for the Master'U and Bath deserves to have someone there as a credit to the set-up here."
Scollo added: "I am incredibly proud again to lead the GB student team to such a prestigious event.
"Ben thoroughly deserves his place on the team and was exceptional in all his matches last year. He has led the way in both in domestic university competition and international events, which has seen him improve his overall game and especially his ATP doubles ranking."
The Master'U BNP Paribas tournament is taking place from November 29 to December 1.