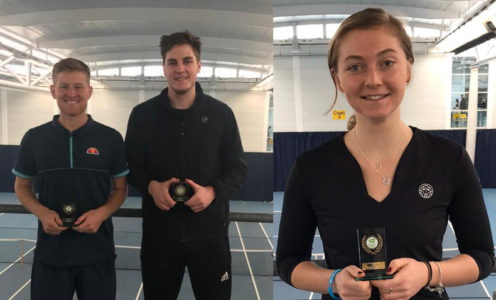 Luke Johnson and Alicia Barnett capped off a fine 2020 LTA British Tour event for Team Bath Tennis by claiming silverware on their home courts on Saturday.
Three of the four finalists in the Grade 1 Premier competition train at the University of Bath, with number two seed Barnett coming through a three-set thriller against training partner Samantha Murray Sharan to claim the women's title with a 2-6 6-3 6-4 success.
Johnson didn't drop a set all week on his way to the men's title at the Sports Training Village, defeating qualifier Henry Patten 7-5 6-3 in the final.
Ian MacDonald – who is coach to Johnson, Barnett and Murray Sharan – said: "It was a really positive week with a lot of good performances and the quality of the finals was very good. The strength in depth this year was definitely stronger from top to bottom which was great to see.
"Having a tournament at home is a really valuable experience for the players and us as coaches because we get to watch them a lot. It was also good to see some of our junior players have a crack at the seniors."
MacDonald described the women's final as a well-fought contest played in a good spirit as Barnett followed up from her British Tour Masters win in December to overcome world number 213 Murray Sharan in the final.
"Alicia and Sam have trained together for a while and they're good friends," he said. "Alicia played very well and stuck to her game plan, while Sam also played a good match so there were a lot of positives to take from it.
"Alicia had been very convincing this week, she had some very good wins."
Number one men's singles seed Johnson was similarly impressive, defeating Team Bath's Toby Samuel 6-4 7-6(7) in a hard-fought semi-final before fending off Patten on Saturday.
"Luke played very well all week," said MacDonald. "He made the semi-finals of a tournament in Tunisia the week before and backed that up.
"He held on to some tight service games in the final in the first set against Henry, did well to break that, and stayed strong in the second.
"It sets him up well for another tournament in Barnstaple this week."
Team Bath Director of Tennis Barry Scollo heaped praise on the competition, saying: "It's a week we look forward to because we get so many of our juniors and seniors playing.
"It's really nice to have winners at a home tournament once again but for us to have 14 players in action across the draws is a great testament to the work going on in the Academy."