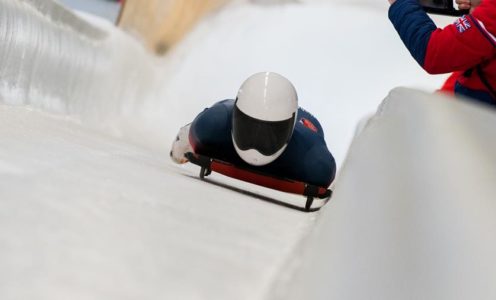 Debutants Matt Weston and Craig Thompson will join Marcus Wyatt in representing British Skeleton at the 2020 IBSF World Championships in Altenberg, Germany, later this week.
The trio train at the University of Bath, which is proud to be home to the British Bobsleigh & Skeleton Association (BBSA), with skeleton and bobsleigh athletes training on the UK's only push-start track as well as in the high-performance gym and indoor athletics facilities.
Wyatt heads to Germany ranked eighth in the world, having finished inside the top 15 in all eight races this term.
It's the 28-year-old's second World Championships after finishing 12th in Whistler, Canada, last year.
"I now have more of an idea of what to expect which is always useful," said Wyatt. "Hopefully it'll allow me to be a bit more relaxed and do my best without worrying about the environment.
"It's similar to the other World Cup races but there is added pressure. I'm pretty laid back but sometimes put a lot of pressure on myself. I'm really competitive and want to do my best. I hate making mistakes.
"I've only raced at Altenberg twice before and it's probably the track I have least amount of experience on, so it's going to be difficult, but my coaches have got really good experiences there. I also make my own notes every time I go to the track. I know it's a really long start, you have to push really well.
"It's then a case of bringing everything together, we'll set up a plan and go from there."
Weston, a 22-year-old former taekwondo international, said he was over the moon to earn a place at his first World Championships having only made his international debut for British Skeleton in December.
Having also competed in rugby and weightlifting, his coach for the latter urged him to try out for skeleton through the Discover Your Gold talent identification scheme.
"I'd always thought it was a pretty cool sport but never really thought I'd get into it," he said. "You need to be really strong, powerful and fast from the start, every hundredth of a second counts.
"You then have to switch to be calm, relaxed and have a head for speed, especially when your chin is scraping across the floor at 140kph on some tracks."
Weston claimed a podium finish in Altenberg earlier this year while competing in the Europa Cup and said: "When I started competing at the beginning of this year I could never have imagined I'd be selected to go to the World Champs.
"This is the first time I'll do four heats over two days so I don't really have a set goal. I'm going to learn a hell of a lot and will push myself to get the best result possible.
"I like the track, it's very technical but when you get it right it's really nice. When you get it wrong, it hurts."
The Kent-born athlete praised the team spirit and the University of Bath facilities.
"I love training here," Weston said. "The facilities are absolutely amazing. The gym is so cool. The fact that we're got our own push track here is really good. I like the environment.
"We work really well as a team, the others are good lads. We help each other along, give each other tips. That's how we bring each other up as one.
"We are very team-orientated. That's probably why we've been so successful at the recent Olympic Games."
Former footballer Thompson finished sixth in the recent World Cup race in Igls and agreed with Weston's views on the team spirit, having been involved in Bath for just over five years.
"The team dynamic is really good," he said. "We're a really tight knit group and it's a really fun atmosphere.
"We've been talking about the track in meetings and we've had loads of push sessions to prepare us."
Despite collecting four medals in nine days in the Intercontinental Cup at the end of last month, Thompson is level-headed about his chances in Germany.
"I'll just treat it as any other race and I'll hopefully get the performance I'm looking for." he said. "I'm aiming for the full four runs. Anything on top of that is a bonus.
"I've not had much experience in Altenberg but I'm excited to be here and hoping I've got enough to be competitive.
"After that I want to qualify my spot for a World Cup and World Champs, then kick on towards the 2022 Olympics. I want to be in Beijing."