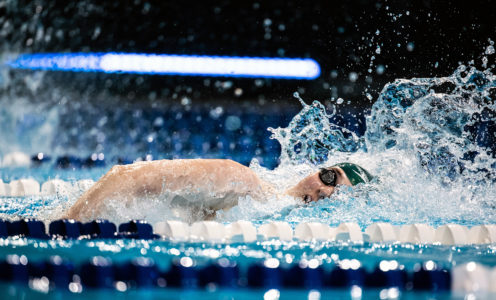 There were four wins and a new British record for Freya Anderson as University of Bath-based swimmers past and present continued to impress for London Roar at the International Swimming League in Budapest.
Fresh from recording five top-two finishes in Roar's second match of the competition, Anderson – part of the British Swimming National Centre Bath squad that train at the Team Bath Sports Training Village – excelled once more as Roar finished runners-up to the Cali Condors in their latest round-robin contest.
The opening day saw Anderson produce a strong opening leg in the women's 4x100m freestyle relay before a stunning split of 51.71 – the quickest in the entire field – from University of Bath alumna Anna Hopkin secured first place and 20 points.
It was then Anderson's turn to produce a brilliant finish in the women's 4x100m medley relay, although she wasn't quite able to reel in Condors' Natalie Hinds as Roar took second spot.
Anderson – coached by Dave McNulty in the London 2012 Legacy Pool – got Roar off to a flying start on day two, gaining maximum points in the 100m freestyle before recording a new British short-course record of 1:52.60 in the 200m freestyle for her second victory of the session.
She still had enough in the tank to produce another flying finish in the mixed 4x100m freestyle relay, overhauling her opponents to secure another top spot for Roar who finished with 491.5 points overall behind Cali Condors' total of 507.
Tokyo Frog Kings were third and fourth place went to New York Breakers, for whom Matt Richards – another member of the National Centre Bath squad – impressed as part of the men's 4x100m freestyle relay squad that finished fourth.
Match 7 concluded in earlier in the day with the highlight of the British showing produced by Jay Lelliott, a University of Bath Sports Performance graduate, and his third-placed performance for Toronto Titans in the men's 200m butterfly.
Picture: International Swimming League / Mike Lewis