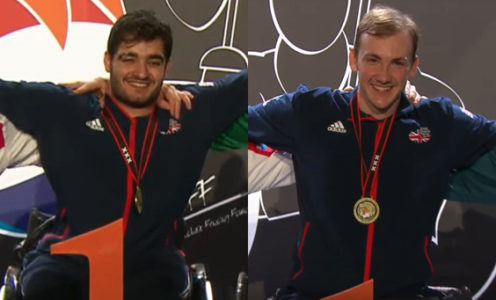 Wheelchair fencing World Champions Dimitri Coutya and Piers Gilliver, who both train at the Team Bath Sports Training Village, have once again been rewarded on the national and international stage for their outstanding performances.
The duo have been named on the International Wheelchair & Amputee Sport Federation (IWAS) Wheelchair Fencing list of 2019 'Best Athletes', recognising the fencers who have achieved the most points in their individual discipline and category during the calendar year.
Gilliver topped the rankings in both the men's Category A sabre and epee, with 168 and 222 points respectively, while Coutya was number one in the Category B foil and epee, with 201 and 216 points respectively.
That announcement came just days after Coutya and Gilliver – who were both crowned as World Champion during 2019, while also winning a host of IWAS World Cup medals – were honoured for their international successes during the British Fencing Association's 2020 Annual General Meeting.
The pair are coached on the EiS World-Class Wheelchair Fencing Programme, based at Team Bath since 2015, by Peter Rome, who himself has been named on a three-man shortlist for the High Performance Coach of the Year category at the UK Coaching Awards 2020. The winner will be announced during a virtual ceremony in December.
Click here to find out more about the wheelchair fencing programme or watch the following behind-the-scenes video…