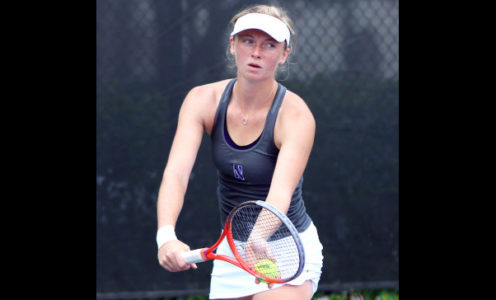 Team Bath's Alicia Barnett was in great form at the weekend's inaugural UK Pro League tennis series event, reaching the semis in an event won by Surrey's Emily Appleton.
Barnett won all five of her opening group games to set up the semi-final which turned into a three-set thriller against Beth Grey.
Grey took the first but Barnett bounced back to win the second before Grey just got the upper hand in the final-set where Barnett had multiple break points but which ultimately ended in a tie-break.
Barnett said: "The set could've been turned around if I had converted one of the multiple break points I had, and if I had tightened up my service game early on where I let a couple of double faults in. What is encouraging is I think the match was in my control and I can work on a few of things to stay stronger in those tougher moments."
Barnett and her coach Ian MacDonald, though, are very positive about the new Series and the opportunities the Pro League offers UK players.
Barnett explained: "It was a really positive week. As my first tournament of the year, I was looking forward to competing and putting the work I had done on and off the practice court into action so I'm happy I came through winning multiple matches.
"There were certain goals within my game I had discussed with Macca [MacDonald, her coach] and knew I had a guarantee of seven matches to consistently work towards those goals."
MacDonald added: "These new events are great.  They provide lots of matches and some prize money and are a perfect preparation for world ranking events."
Barnett is back at the Team Bath Tennis International High-Performance Academy after a spell studying at university in the States. She has returned to the programme she first joined as a 16-year-old through the Advanced Apprenticeship in Sport and Exercise (AASE) programme.
She now takes on the challenge of playing some tournaments in Egypt next week but coach MacDonald is sure she will play more tournaments this season in the UK Pro League.
Team Bath could be in line to host some of the later stages in the series, either in July or August, with talks pending.  It would provide another opportunity to see top players in action at the Team Bath Sports Training Village.
Team Bath Tennis is part of the University of Bath Department for Sports Development and Recreation and is based at the Team Bath Sports Training Village.  Under the leadership of Director of Tennis, Barry Scollo, Team Bath provides tennis activities at all levels from touring professionals to tots taking their first steps in mini-tennis for fun. For further information visit Our tennis pages