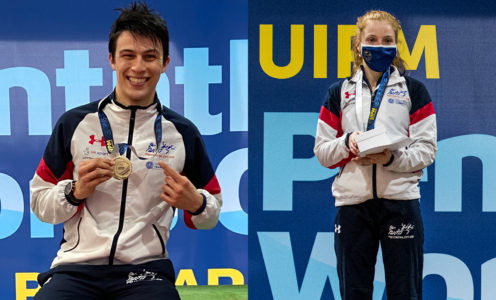 Pentathlon GB athletes based at the University of Bath took their UIPM World Cup medal haul for the 2021 season to a super six this weekend as Joe Choong and Francesca Summers won gold and silver respectively in Sofia, Bulgaria.
Mathematics graduate Choong found the consistency he had been looking for in the previous two World Cups as he impressed across all disciplines – swimming, fencing, riding and the combined run-shoot – to stay in the top two throughout the men's final.
Despite heavy rain and muddy conditions underfoot, he was able to pull away from the field with three sub-10 second shoot shoots to claim his first individual medal of the season and second gold following mixed relay success with University of Bath sporting scholar Olivia Green in Hungary last month.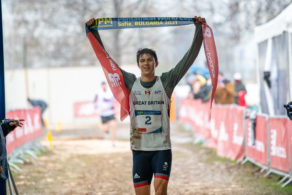 "These are definitely the worst conditions I have ever run in," said Choong, who set the Olympic qualification standard in 2019 with victory at the World Cup Final in Tokyo, home to this summer's Games.
"It's like being back at home doing cross country when I used to run at school. I've never fallen over so many times in combined event."
Sam Curry, Tom Toolis and Jamie Cooke finished 12th, 20th and 25th respectively in Sunday's final.
Saturday saw former World Junior Champion Summers continue her impressive 2021 season by finally securing her first-ever World Cup medal after top-ten finishes in the previous two events this year.
Having demonstrated consistency all day, Summers fought hard for position in the laser run and traded places with compatriot Jo Muir several times before finding an extra gear in the final lap to earn a well-deserved silver medal.
"I'm over the moon," said Summers, who also earned valuable points on the Olympic Ranking list." I had a lot left in the last lap but I just went for it. I can't even tell you how happy I am."
Sports Performance graduate Muir was fourth for the second World Cup running, continuing her tremendous consistency having won silver in Hungary last month, and Natural Sciences alumna Jess Varley was 23rd overall.
The result means GB's women have won four of the nine medals up for grabs during this World Cup season, with Kate French having claimed gold and silver at the two previous competitions.
Picture credit: UIPM World Pentathlon / Virág Buza