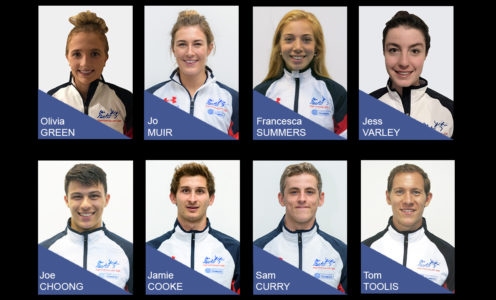 Jamie Cooke and Joe Choong are hoping the pieces of the modern pentathlon 'jigsaw puzzle' start to fall into place this weekend when they compete in the third UIPM World Cup of a busy month.
Just days after the second competition of the season concluded in Sofia, Pentathlon GB's athletes – who train at the University of Bath – go again in the Bulgarian capital with the women's qualifiers today (Thursday) and the men in action on Friday ahead of their respective finals on Saturday and Sunday.
Cooke and Choong, the reigning European and World Cup Final champions respectively, have yet to find consistent form across the five pentathlon disciplines since returning to competition for the first time in 14 months but are confident they are on the right track.
"I'm excited for this weekend," said Cooke, who has been hampered by a hamstring injury during the past few weeks. "I was disappointed with a few things in terms of competition craft last week but I have spoken to my coaches and we've had these past few days to start working things out.
"It's the first time we've done back-to-back competitions this quickly and I'm enjoying it, it's been really cool to spend time with the other athletes and there is a nice buzz around the place. We've been quite lucky to do some fencing sparring sessions with them too, which is something you wouldn't normally get to do.
"Being out for such a long time has hit a little bit harder than many of us thought, myself included. I've spoken to a couple of other athletes who've said it is so strange to be back but as we do more of these competitions we'll get used to them and I know I have the performances in me.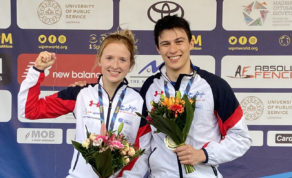 "I am a massive believer in hard work paying off so I just have to keep putting in the work. I always talk about pentathlon being a jigsaw and at the moment I'm just missing a few parts of the puzzle. Hopefully it will all start to fall in place."
Choong won mixed relay gold with University of Bath sporting scholar Olivia Green at the first World Cup of 2021 in Budapest but has struggled for consistency in the men's individual competition.
"There are things to work on but I've enjoyed competing again and in terms of head space, the last competition in Sofia was much better," said Choong, a University of Bath Mathematics graduate.
"There were so many ups and downs during the 14 months without competition and everyone has come back at a different point. Some have hit the ground running and others, like me I guess, are going to take some time to get used to things again but I don't think I'm going to need that much more time.
"In the last competition I had a terrible start to the fencing, came back really well and dropped off a bit at the end but still finished 50-50, then I had a bad ride. With my strong swimming, shooting and running, it would have been a top-ten, possibly top-six, performance. If you don't put all five together you won't medal so it's about finding that consistency."
This week marked 100 days to Toyko 2020 but Choong – who, like Cooke, has set the Olympic qualifying standard – is focussing on short-term goals.
"I don't really pay much attention to the milestones and you can still get a huge amount done in 100 days," he said. "The Olympics are the big one for this year but for me it is the process of getting there.
"We have a really strong men's team of four. Tom Toolis and Sam Curry have had a great start to the season and are keeping us on our toes, so you want to stay in the number one position in that team. I'm just focussing on the next World Cup and trying to qualify for the World Cup Final."
Cooke added: "One of the things I have learnt over the past ten years is that time flies. It doesn't seem that long ago we were at the Europeans in Bath [in 2019], then suddenly it's 100 days to go. It only goes quicker when the ball starts rolling down the hill and the competitions start coming thick and fast – World Cup Final, then the World Champs, then a training camp in Font Romeu and it's Tokyo."
Green, Jo Muir, Francesca Summers and Jess Varley will compete in the women's competition in Sofia.