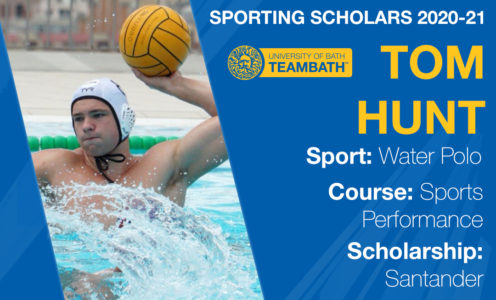 With his sights firmly set on the Commonwealth Championships Tournament in England next year, British Water Polo athlete and University of Bath sporting scholar Tom Hunt is going above and beyond to achieve his vision of success.
While he missed out on competing at the U19 European Championships due to the Coronavirus pandemic, Tom is determined to be on the international stage in April 2022 at what he describes as 'a competition that nothing else comes close to'.
"The Commonwealths are the next big competition on the horizon and because we are the host nation next year, it means England will field a team which means it will be the biggest competition any English water polo player has ever gone to barring the Olympics," said Tom, a Sports Performance fresher who is supported by a Santander Scholarship.
"Because I missed out on the Europeans with my current U19s age group, I feel like I owe it to myself to play at that level again as a senior."
Under-19s as an age group will always have a special place in Tom's heart – when asked which personal sporting achievement meant the most to him so far, he chose his selection to play internationally in that age group while aged 16.
"That was really when I started developing as a player," said Tom, who plays club water polo for Cheltenham and was shortlisted for the British Swimming Water Polo Male Athlete of the Year award in 2019.
"I just felt like it was the most beneficial time in my playing career where I developed not only as a player but as a person, maturity especially.
"Being around the older lads who were turning 19 and playing at that level was absolutely incredible, and the experiences I got playing internationally were second to none. It was a lot of fun and agreat coaching team; I learnt a lot."
Training will be paramount in his Tom's bid to compete at the Commonwealth Championships but training to achieve a dream is not always easy, a notion that athletes competing in this period of history are becoming all too familiar with.
Workouts have been carried out at home, athletics tracks have been substituted for residential streets and Tom, following this trend, fashioned his local lake as his swimming pool. Training in the lake allowed him to maintain the swimming aspect of his water polo training, an essential part of keeping his game sharp, before the pools reopened.
Keeping a balance is also a part of the preparation as, alongside his sport, Tom is now studying Sports Performance (FdSc) at the University of Bath. With a lot to keep track of day-to-day, a strict routine is what he credits as the solution for staying in control.
"Between studying and my gym training, on top of everything else, it is reasonably difficult but I manage it," he said. "I get the work done that I need to do, wake up at the hour I need to…. It's difficult, but I enjoy it."
The support provided by his Santander Scholarship, a scholarship which helps elite student-athletes at the University of Bath fund training and competition, will be a big factor over the coming years, especially in a self-funded sport like water polo.
"The scholarship support is amazing," he said. "Considering water polo is a non-funded sport, every single training camp I've been to has come out of my own pocket so to be helped out by this scholarship allows me to train at a high intensity without having to worry as much about the financial fees.
"It means I can go on more international trips for water polo when they happen and more training camps because they're all held up in Manchester. It's all the little stuff that adds up and this scholarship has helped to support that. It's massive, absolutely massive."