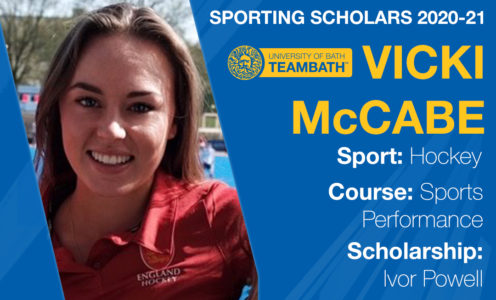 University of Bath sporting scholar Vicki McCabe, whose place in the Great Britain Hockey Elite Development Programme (EDP) has this week been confirmed for another season, says she is looking to the future with confidence after an eventful year on and off the pitch.
McCabe, who is supported by an Ivor Powell Scholarship, is once again joined by fellow Sports Performance student Tim Nurse in the EDP scheme designed to help the country's top young players make the transition to the senior squads and compete at future Olympic Games.
It continues a hockey journey that began in earnest at the age of 14 for Team Bath Buccaneers player McCabe, who has already earned 67 international caps across various age groups for England and Great Britain.
"I only played hockey a little bit when I was in prep school and I focused mainly on athletics until I was about 14," she said. "When I moved up to secondary school I really wanted to do a team sport, so I had to choose between athletics and hockey.
"I found hockey fun and I was OK at it, so I went with it – and now here I am!"
As well as starting her degree course at the University of Bath in September, McCabe has also had to adapt to many sporting challenges during the past 14 months. She has been able to continue some training through the Government's Elite Sport Protocol but playing time has been limited, with no junior international matches being played for more than a year.
It is hoped that players will enjoy a full programme of international competition in 2021, including the senior EuroHockey Championships in July and the Junior World Cup for England's U21s in November.
"That is something to look forward to and there are also the Commonwealth Games in Birmingham next year, as well as the Paris 2024 Olympic Games," said McCabe. "That's my goal and what I'm aiming for.
"The last year has definitely been disrupted, on and off, unpredictable. I had a training camp in January that was going ahead quite literally until the day before and it was cancelled. It's been really uncertain but we've done the best we can.
"I struggled with motivation at times. I would wake up and really want to put a film on but I think 'I must go on a run'. At the start of the pandemic I really found it hard to look through to the future but now I'm starting to think 'OK, in the summer things might start to become normal'."
As a student-athlete, balancing a busy schedule of studying alongside a playing career can be tough. Travelling to camps and competitions demand time but also financial costs, so McCabe is grateful to receive scholarship support from the University.
"To get a scholarship is a big honour, obviously, and is so helpful," she said. "I'm living at home this year so I'm commuting. Hockey is all the way up and down the country and every week I'm having to drive somewhere, so the funding really helps to make that all work.
"It's a lot more reassuring when you're comfortable and not worrying as much about the costs of doing what you love."