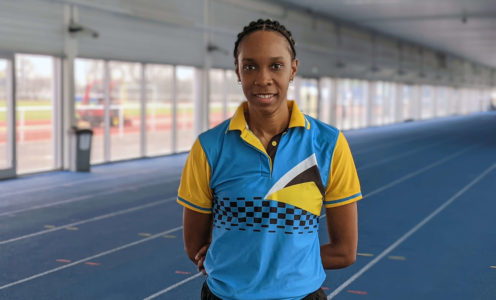 She is the reigning Commonwealth champion, 11-time continental gold-medallist and an official Sports Ambassador for her native Saint Lucia but Levern Spencer hopes moving to Bath will help her secure one thing missing from her incredible CV – an Olympic medal.
The high jumper, who will start her season at the first Diamond League competition of 2021 in Gateshead on Sunday (May 23), is set to compete at her fourth Olympic Games in Tokyo this summer, 13 years after making her debut at Beijing 2008. She also represented her country at London 2012 and reached the final at Rio 2016, placing sixth overall.
Spencer is determined to get on the podium this time round and has relocated from her traditional US training base to work with renowned coach Denis Doyle at the Team Bath Sports Training Village in search of that extra edge which will take her to new heights.
"I've been training in the US for pretty much my entire professional career and I decided that this year I wanted to try something different," said Spencer. "Travelling several hours each way from the US to compete on the European circuit has been really tough on my body, so I thought basing myself in Europe would be a wise decision.
"Denis was definitely the first person who came to mind. He'd assisted me when I was at a competition in the Czech Republic in 2016 and I ended up jumping an indoor personal best. I contacted him and he was willing and excited to work with me.
"Fortunately Denis was already here at Team Bath working with Tom Gale, who is the UK's number one high jumper. I thought being a training partner with Tom would be a big plus – why not train with someone of such a high calibre?
"It's also pretty much the same set-up as the US here. The athletics track is right here, the indoor jumps hall is here, the gym is here, the sand pit is here and I love the ice bath here, it really helps my recovery. I can't complain, it's a great facility and everything is readily available so thumbs up to the University of Bath!"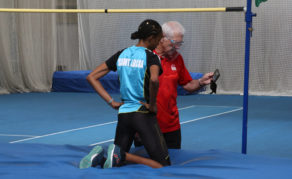 Spencer first came to Bath in late 2019 but has spent much of her 18 months in the country in lockdown due to the Covid-19 pandemic. That also meant she has had to wait another year to compete in her fourth Olympic Games but she believes the delay may work to her advantage.
"It always takes a while to adjust to a new coach, his training principles and the different things I need to learn to get to the next level," she said. "The delay gave me a little more time to work on things and just be prepared a little better.
"I've trained with several different coaches before and they all have their own philosophy when it comes to high jump. In the US we did a lot more running and a lot of different exercises in the gym compared to what I'm doing here. Some exercises I did for the first time when I came here.
"Sometimes a coach doesn't always see your mistakes or errors and you always need an extra eye. When you go to another coach you realise you haven't been doing X, Y, Z over how many years. I'm working on all those little things and when I get stronger in those areas, hopefully I can put in some good performances."
Spencer, who is in her 20th year of competing on the senior international circuit, has been recording personal bests in training during recent weeks and can't wait to check her progress in competition again.
"I'm not quite where I need to be but I should be there soon and I'm looking forward to hopefully jumping well at the first Diamond League," said Spencer, who has been named as Saint Lucia's Sportswoman of the Year 16 times and was appointed Official Sports and Youth Ambassador for the Caribbean island nation at a state dinner in her honour in 2019.
"I have set a lot of goals for myself and unless I achieve them there is always motivation. One of my goals was to make it to these Olympics, then make the finals, try to get on the podium and try to make the 2m mark. That's something I haven't achieved, so that is really pushing me and keeps me working hard day after day, year after year."