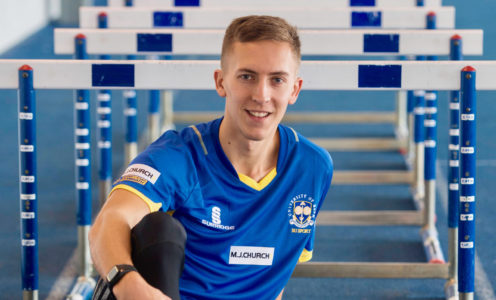 Hurdler David King today became the 12th University of Bath graduate to be selected for the Tokyo 2020 Olympic Games when he was added to the Team GB athletics squad.
King, who studied Sports Performance, was one of four British track and field athletes to earn their place through the World Athletics ranking invitations list. He finished runner-up in the 110m hurdles at last weekend's Muller British Championships, which doubled as the Olympic Trials.
It will be a debut Olympics for King, who continued to train at the University after his graduation before moving his base to the United States in late 2019. He now uses the Sports Training Village for some training while competing in the UK.
View this post on Instagram
He is the second Sports Performance graduate to be named in the Team GB athletics squad, joining Cameron Chalmers who has been selected for the men's 4x400m relay.
Other graduates heading to the Olympic Games this summer are Prisca Awiti-Alcaraz (judo); Joe Choong, Kate French and Jo Muir (modern pentathlon); Sara Parfett (rowing); Deborah Fleming and Natasha Hunt (rugby sevens); Anna Hopkin and Calum Jarvis (swimming). Paracanoeist Stuart Wood has been selected for the Paralympic Games.