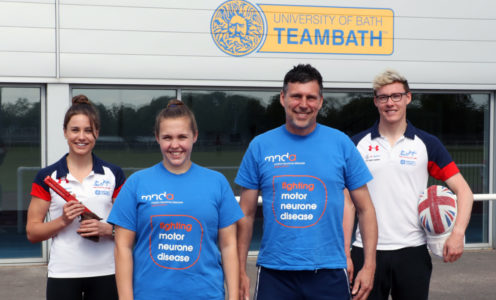 Taking on one Olympic sport is challenging enough but a couple who have been training in Bath are about to try all 80 events during Tokyo 2020 to raise money for the Motor Neurone Disease Association (MNDA).
Stuart Bates and Charlotte Nichols begin their Spennylympics challenge on Friday (23rd July) and over the next 16 days will be doing all the disciplines across the full range of Olympic sports from archery to wrestling.
That includes modern pentathlon on Friday 6th August, the same day as the women's final in Tokyo, at the Team Bath Sports Training Village, home to Pentathlon GB's National Training Centre and where medical student Charlotte – who has been on placement at Bath's Royal United Hospitals this year – has been working out in the gym and swimming pool to get in shape for the epic challenge ahead.
"It's been absolutely amazing just learning so many new things and trying sports you wouldn't normally have tried like show jumping and sailing," said Charlotte, who studies at the University of Bristol.
"The 10m dive is borderline exciting and scary and I think we're both terrified of the 10km swim – it's a very long way – but we're so excited about all of the amazing sports and facilities we're getting to try out, especially the modern pentathlon centre here in Bath with the laser shooting and the fencing. I'm sure it's going to be so much fun."
The Spennylympics fundraising challenge is the brainchild of Stuart, whose sports-mad brother Spencer passed away ten years ago after suffering from Motor Neurone Disease.
"My brother, known to everyone as Spenny, was a massive sports fan and at this time of year we'd both be getting really excited about all the GB athletes taking on their individual sports," Stuart said.
"This challenge has been kicking around in my head for a while and I almost didn't want to say it out loud as it sounded so ridiculous but as soon as I mentioned it to Charlotte, she said 'that's brilliant, we have to do it!'.
"Motor Neurone Disease is a neurological condition for which there is currently no cure and no effective treatment. In time hopefully, with enough funds, they will be able to get there and raise enough money so effective treatments and cures can be found."
To help her get in shape for the challenge, Team Bath provided Charlotte with access to the Sports Training Village where she got to train alongside some of the 20 sportspeople based there who are competing at the Tokyo Olympics.
"The University of Bath has been absolutely brilliant in providing training facilities, allowing me to get on with my training without having to travel too far," she said. "I've been using the gym and pool every day and it's been absolutely fantastic. To be able to train alongside the Olympic swimmers in a 50m pool has been mind-blowing."
Charlotte and Stuart are hoping people will not only get behind them but also take on their own Spennylympics challenge to support the MNDA's work.
"People can use the hashtag #MySpennylympics to tell their own story about what the charity means to them or why they've decided to take on their particular challenge," said Charlotte. "It could be anything from a swim or kickabout to something non-sporty like knitting a long jumper or BMXing, baking to the max.
"We are obviously taking on the huge challenge of completing all 80 Olympic events during the 17 days of the Tokyo Games. We'd absolutely love it if you could get behind us or take on an Olympic event of your own to raise money for the MNDA."
To support Stuart and Charlotte or find out more, visit www.spennylympics.com or follow @spennylympics on social media.