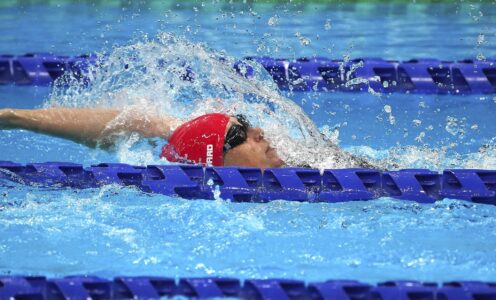 Team Bath AS swimmer Stephanie Millward narrowly missed out on a medal at Tokyo 2020 today when she raced in the 19th Paralympic Games final of her illustrious career.
The four-time Paralympian and 10-time medallist led off a GB 34pts 4x100m medley relay quartet that also featured Maisie Summers-Newton, Toni Shaw and Zara Mullooly. They placed fourth in 4:58.76 behind the United States, Russian Paralympic Committee and Australia.
"To finish on a high, finish fourth in the whole, wide world, with this amazing group of people is wonderful," said Millward. "These girls will go on and win more medals, more, more, more. They're an inspiration to everyone. We need to be proud of the fourth."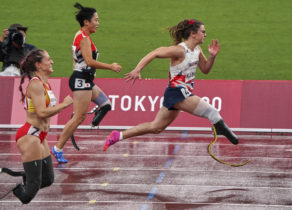 The University of Bath Hall of Fame for Sport inductee also raced in the 34pts 4x100m freestyle relay and S9 100m backstroke finals in Tokyo, having previously competed at the Beijing 2008, London 2012 and Rio 2016 Games.
While Millward was completing her fourth Paralympic Games, sprinter Sophie Kamlish was beginning her third in the Tokyo Olympic Stadium as she clocked 13.32 in rainy conditions to finish third in the T64 100m heats.
That means that Kamlish, who is coached by Rob Ellchuk, will race in the final at 11.14am BST on Friday. She is also part of the squad for the first-ever 4x100m Universal Relay at a Paralympic Games, featuring female and male athletes from different disability groups, with the heats at 4.10am BST on Friday and the final at 1.17pm BST.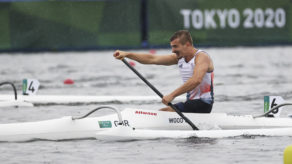 Polly Maton, coached by Colin Baross at the Team Bath Sports Training Village, is also competing on Friday in the T47 long jump final, which starts at 1.35am BST.
Day one of the paracanoeing competition saw Maths & Physics graduate Stuart Wood make his Paralympics debut in the men's VL3 heats.
Wood, who first took up the sport with the University's student canoe club, narrowly missed out on the one automatic place in the final as he finished runner-up in a rapid heat in 52.579 but he will have another chance in the semi-finals on Saturday (2.19am BST).
"It would have been nice to go straight through to the final of course but it felt like a decent run," he said. "I feel good. The adrenaline was high for my first Paralympic race but hopefully I will feel a little more relaxed for the next one."