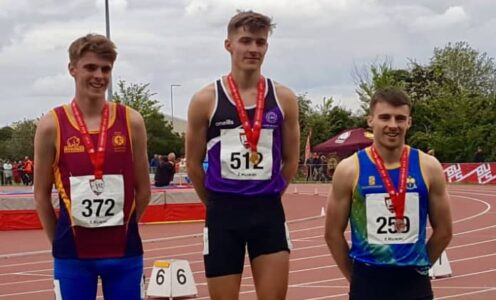 Former University of Bath student-athlete Andrew McAslan is supporting a global campaign that has raised more than £2million for potentially life-saving research into the non-Hodgkin follicular lymphoma disease he was diagnosed with earlier this year.
Andrew, who studied a Masters in Mechanical Engineering and won an 800m bronze medal while representing the Blue & Gold at the 2019 BUCS Championships, is undergoing six months of immuno-chemotherapy treatment with the aim of getting a complete response to treatment, which means there would be no evidence of disease.
There is currently no cure for the blood cancer disease but Andrew hopes that will change soon thanks to the work of the Follicular Lymphoma Foundation, whose two-day Time To Cure fundraising campaign – taking place on 24th and 25th October – has already more than doubled its £1million target, with Andrew closing in on his own personal £70,000 target.
"Their aim is to find a cure for this disease and they are confident that this is possible," he said. "Receiving this diagnosis came as a massive shock, however I am feeling positive and ready to tackle whatever is to come through this process."