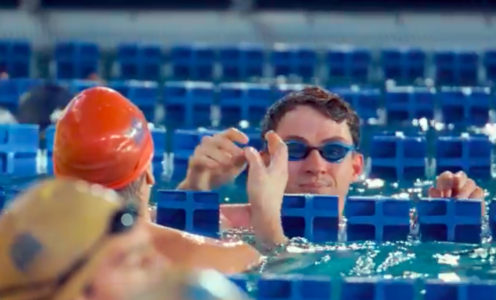 University of Bath swimmer Ben Proud smashed his British 50m freestyle record for the second time in a fortnight to help Energy Standard win the 2021 International Swimming League title.
Proud, coached by Mark Skimming at the Team Bath Sports Training Village, has been in brilliant form throughout the ISL season and ended it on a fitting note by slicing 0.24 seconds off the time he set in the play-offs and touching the wall first in 20.40.
He then equalled his own British 50m butterfly record of 22.18 to record his second victory of finals weekend in Eindhoven before setting the fastest butterfly time once again in the decisive men's 50m Skins race which ensured that Energy Standard would reclaim the title they won in 2019.
View this post on Instagram
Double Olympic champion James Guy, who trains with the British Swimming National Centre Bath squad, was also part of an Energy Standard team whose final tally of 534 put them 12 points clear of runners-up Cali Condors. Their roster included Olympian Brodie Williams, who clocked 4:06.68 for third place in the 400m individual medley.
Third place overall went to London Roar, for whom Tokyo 2020 gold-medallist and Bill Whiteley Sporting Scholar Tom Dean took victory in the 400m freestyle in 3:40.67. Fellow Olympic champion and training partner Freya Anderson also made valuable contributions with second place in the 200m freestyle (1:53.04), third in the 400m freestyle (3:59.96) and swimming the lead leg as Roar placed runners-up in the women's 4x100m freestyle (3:29.13).
Ed Mildred, who has joined the National Centre Bath squad recently, also produced some good swims for Roar during a busy weekend in the Netherlands.
Back home, a host of Bath-based swimmers were in action at the Swim England National Winter Short-Course Championships at Ponds Forge in Sheffield.
Tokyo gold-medallist Matt Richards of the National Centre Bath warmed up for this month's World Short-Course Championships in Abu Dhabi by winning 50m freestyle gold in 21.96 before reclaiming his Welsh 50m butterfly record by clocking 23.07 as he finished runner-up to training partner and fellow Olympian Jacob Peters (22.65).
That was one of three wins in the butterfly events for Peters, who also clocked 50.20 over 100m and 1:52.23 in the 200, and there was a double success for fellow National Centre Bath Olympian Kieran Bird in the 200m freestyle (1:45.09) and 400m freestyle (3:39.97).
Mechanical Engineering student Cameron Brooker, supported by an Ivor Powell Sporting Scholarship, took gold in the 200m backstroke (1:52.80) plus silver in both the 50m (23.87) and 100m (51.68) races.
Jacob Greenow, coached by Skimming, impressed in the individual medley events by winning 400m gold (4:07.99 PB) and 200m silver (1:57.83), and National Centre Bath swimmer Emily Large was first in the 200m butterfly (2:07.88) and third over 100m (59.25).
Santander Sporting Scholar Leah Crisp bagged a bronze brace in the freestyle, clocking 4:08.46 in the 400m and 8:33.74 in the 800m, and there were also third-placed finishes for Josh Gammon in the 100m butterfly (52.39), Jono Adam in the 100m backstroke (52.02) and Luke Turley in the 1,500m freestyle (14:55.68).