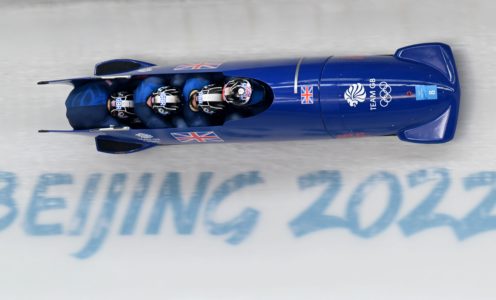 Brad Hall was a proud pilot after Team GB's four-man bobsleigh crew finished an impressive sixth on the final day of competition at the Beijing 2022 Winter Olympic Games.
Hall and brakemen Greg Cackett, Nick Gleeson and Taylor Lawrence of the University of Bath-based British Bobsleigh & Skeleton Association produced four consistent runs to finish just seven-tenths of a second outside the medal places with a combined time of 3:55.72.
"I'm definitely very proud of the performance we have done," said Hall, who was competing at his second Games. "The guys pushed incredibly well, with the top two starts, and I drove really well as well.
"We can hold our heads up high and know that our performance was good. We did the best we can and sixth place for a small nation that doesn't have its own ice track or much funding is definitely something to be very proud of."
Cackett had mixed feelings, saying: "We've had a storming performance but I feel a bit weird about it because we are competitors and we knew we could win a medal.
"To sign it off with a top six is a great return, and [we've had] a massive World Cup season which we can be proud of – when I look back and stop sulking!"
Lawrence, the only Olympic debutant in the team, added: "I've just enjoyed absolutely every single moment of it. Along the years I've learnt to become a better brakeman, teammate, athlete and just a better person all round. Having all these guys supporting me and everyone back home, it has been absolutely unbelievable."
The two-woman bobsleigh competition saw Team GB's Mica McNeill and Montell Douglas improve by two places on runs three and four to finish 17th overall.
"We are happy with how we've come back today," said McNeill. "Sport's tough when it doesn't go your way and you've got to come back and respond and we did."
Douglas, who made history by becoming the first female Team GB Olympian to compete at both a Summer and Winter Games, announced her retirement after the race and said: "I've had the best time and a very long career. I've led from the front and made a little bit of history myself to show that you can do anything you put your mind to."
Click here to see all the results for the Bath-associated athletes who competed at Beijing 2022.
Picture credit: Robert Michael/dpa-Zentralbild/dpa/Alamy Live News