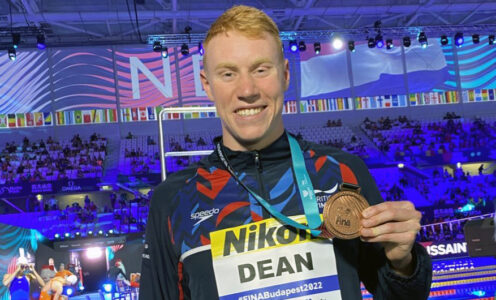 University of Bath-based swimming star Tom Dean secured the first FINA World Championships medal of his career after taking bronze in a thrilling 200m freestyle final in Budapest on Monday.
The Olympic Champion, coached by David McNulty at the Team Bath Sports Training Village, went out at world-record pace and was almost a body-length clear of the field after clocking 48.91 during an explosive first 100m.
Romania's David Popovici and South Korea's Sunwoo Hwang managed to close him down on the last length, with the former ultimately taking the victory in a new world junior record time of 1:43.21, but Dean held on to bag bronze in a season's best time of 1:44.98.
"It's a learning experience," said Dean, whose medal was a first at these championships for British Swimming. "My plan was to take it out hard and I paid for that gamble at the end a little bit. It was probably the hardest 200m I've done in my life, I suffered in that back end – but you roll the dice, you learn from every swim you do and it's an incredible swim from those boys too.
"People don't go out in sub-50 and come back, I know for a fact the world-record wasn't out in sub-50. The speed is there, which is good and gives me confidence, but I need to be able to control a 50-mid or 50-low, those fine margins in this event really pay the difference later on."
My @britishswimming @fina1908 TV chats with:
• @tomdean00 on 200m 🥉
• 200m free finalist quickest qualifier @freyaandersonn on a 'confidence boosting' swim
• 200m fly finalist @Jimbob95goon on individual targets; "Last year was a sacrifice but it paid off, but I'm James Guy." pic.twitter.com/SjJE23YXG0

— Nick Hope – the athlete's journalist 👨‍💻🏊🏻‍♂️ (@NickHopeTV) June 20, 2022
Dean has more medal chances coming up during a busy week, which began on Saturday as he and British Swimming Performance Centre Bath team-mate Matt Richards teamed up with Lewis Burras and Jacob Whittle to set a new British record of 3:11.14 while finishing fourth in the men's 4x100m freestyle relay.
Freya Anderson, who anchored the women's quartet to fifth place in their relay, will go into Tuesday's 200m freestyle final as the fastest qualifier after setting a new personal best of 1:56.05 with a fantastic performance in Monday's semi-finals.
"I'm happy with that," said Anderson. "It's a big confidence boost. That's been my PB for two years, I've been struggling to get down to a 1:56-low, so I'll take it – but there's always ways to do better."
Also progressing to Tuesday's finals with a new personal best is James Guy, who sliced three-tenths of a second off his previous mark to progress in the 200m butterfly in a time of 1:54.91.
"This is my fifth World Champs now and I never thought I'd be doing that in the 200m Fly at 26 years old against these young'uns!" he said. "One thing I've realised at these meets is you have to do your own thing and not look at anybody else. I knew I had to go out tonight and do my own race, and it paid off well."
Picture credit: Nick Hope