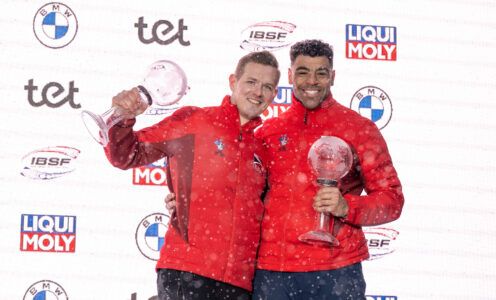 British Bobsleigh capped a record-breaking season as pilot Brad Hall and brakemen Taylor Lawrence and Greg Cackett became Great Britain's first ever two-man Overall IBSF World Cup medallists.
The University of Bath-based sliders didn't finish outside the top five all season as they brought home bronze overall, their medal secured by a fourth-placed finish for Hall and Cackett in Sunday's final race in Sigulda.
Hall, Lawrence, Cackett and Arran Gulliver won Overall World Cup silver in the four-man event seven days earlier, meaning British Bobsleigh also won bronze in the Overall Combined World Cup competition for the first time since 1994.
They finish the year with a total of 11 World Cup medals, including three gold; a first ever men's European Championship four-man crown; and a first four-man World Championship medal for the country since 1939 thanks to silver at the season showpiece in St Moritz earlier this month.
The latest success comes just two days after Matt Weston and Marcus Wyatt won silver and bronze respectively in the Overall World Cup for men's skeleton.
Pictured top: Brad Hall and Taylor Lawrence receive their trophies for finishing third overall in the two-man bobsleigh IBSF World Cup season. CREDIT: IBSF.