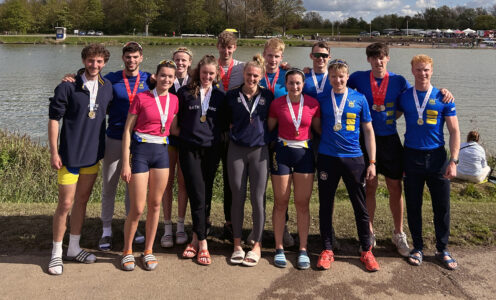 The successful British Rowing Start talent development programme based at the University of Bath is holding trials for aspiring Olympians this month.
Taking place at the Team Bath Sports Training Village on Tuesday 30th and Wednesday 31st May, they are open to women aged 14-22 who are 178cm or taller and men aged 14-20 who are 188cm or taller. Trialists need no previous rowing experience, just the right physique and attitude to give rowing a go.
Double Olympic Champions Helen Glover and Heather Stanning are among the graduates of the Bath Start programme, whose latest intake helped the University of Bath Rowing Club enjoy their best-ever BUCS Regatta results at the 2023 edition in Nottingham.
Santander Sporting Scholar Phoebe Hayden and Rebekah Court won gold in the intermediate women's double sculls before teaming up with Daisy Faithfull and Calla Spires to claim the quadruple sculls title.
Jack Norton took top spot in the intermediate lightweight men's single scull and claimed another gold in the intermediate men's quad with Goldsmith Scholar Angus Pollock, Luka Halozan and Matthew Page.
Joe Stobbs and Ben Furley were the intermediate men's double champions and also won championship quad silver with Start duo Cedol Dafydd and Jamie Gare, who were runners-up in the championship double.
Dafydd was a bronze-medallist in the championship single scull, as was Emma Leslie in the women's beginner single, as Crew Bath placed seventh on the Men's Victor Lodorum, 11th on the women's and 10th overall.
Court, Dafydd, Gare, Hayden and Leslie are all on the Start programme, coached by Dan Harris and Tom Selby.
For more information about the Start programme or to register an interest in the trials, please email Dan Harris at dan.harris@britishrowing.org or Tom Selby at tom.selby@britishrowing.org.