National Pool Lifeguard Qualification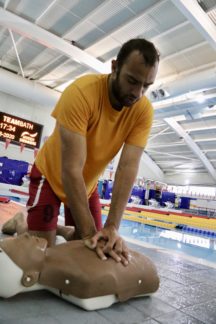 On successful completion of the course, you will be fully qualified to work as a Pool Lifeguard and have the opportunity to apply to work on a casual basis at the Sports Training Village.
This five-day course, taught in the Olympic-sized London 2012 Legacy Pool, is a nationally recognised qualification that provides an understanding of:
Your role and responsibilities
Lifeguard & Law
First Aid
Pool Safety Operating Procedures
Hazards on poolside
Dealing with emergencies
Teamwork
Policies & procedures
Pool supervision & intervention
Next course:
Monday 23rd to Friday 27th October 2023 (9am-6pm), with an assessment on Saturday 28th October 2023 (10am-4pm) – click here to book.
Course cost: £250.
Applicants must be:
 16 years of age or older;
Able to jump or dive into deep water;
Able to swim 50m in no more than 60 seconds;
Able to swim 100m continuously on front and back;
Able to tread for 30 seconds in deep water;
Able to surface dive to the floor of the pool;
Able to climb out of the pool unaided without using a ladder / step where the pool design permits.
Validity of Award: 2 years.