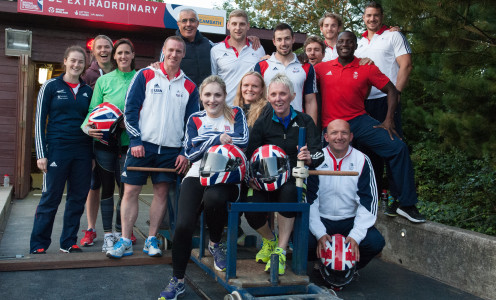 A host of Olympic, Paralympic and world-class sports people gathered at the University of Bath on Wednesday to take part in the British Athletes Commission's first Athletes Day.
Up-and-coming stars across a wide range of sports – from football to fencing, swimming to sailing, dressage to diving – also attended the event which focused on dealing with sponsors, agents and the media.
The day was run by Anna Watkins, the rower who famously won double scull gold with Katherine Grainger at the London 2012 Olympic Games, and former swimming World Champion Karen Pickering. They are now chair of the BAC's Athlete Advisory Group and chair of the BAC respectively.
Keynote speaker was Beijing 2008 modern pentathlon silver-medallist Heather Fell, who returned to her former University of Bath training base to talk about how she worked with agents and the media during both her sporting career and after retirement.
Watkins, who recently announced her return to rowing, said: "It is a chance for athletes across all sports to get together, meet each other and look at areas which are particularly useful to them.
"There will be a different theme each time but this year's is about outside sport – things like setting up a positive public profile, finding sponsorship, working with agents and dealing with the media.
"They can be a distraction but something like finding sponsorship is also utterly essential, so it is about helping to find a balance."
Among those attending were Olympic and World skeleton champion Lizzy Yarnold, Paralympic swimming medallist Stephanie Millward and wheelchair athletics 1,500m world-record holder Mel Nicholls.
Other sports represented included athletics, biathlon, bobsleigh, canoeing, cycling, golf, handball, hockey, judo, para-triathlon, shooting, wheelchair basketball and windsurfing.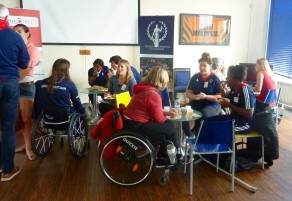 Pickering said: "It is an amazing turnout across such a wide range of sports. It is always great when you get this mix of athletes in a room together.
"A lot of them will just be back in training and starting their final countdown to Rio 2016 but we also have winter sport athletes here as well, it is completely integrated.
"The University of Bath is such a lovely venue and ideal for a multi-sport event like this. The people who come here as students or are based here for their training are very lucky."
Many of those visiting took the opportunity to train free of charge in the world-class Sports Training Village before the event got under way.
"I usually train at Bisham Abbey and this is the first time I have trained at a different High Performance Centre," said Watkins.
"I have been made to feel very welcome, I love it here."
Watkins and Pickering were among those who also tried their hand at bobsleigh on the newly-refurbished outdoor push-track.
They were put through their paces by athletes from the British Bobsleigh & Skeleton Association, which is based at the Sports Training Village.
TOP PICTURE: BAC members, including Anna Watkins and Karen Pickering (second and third from left), tried their hand at bobsleigh with athletes from the British Bobsleigh & Skeleton Association. PICTURE: Paul Gregory