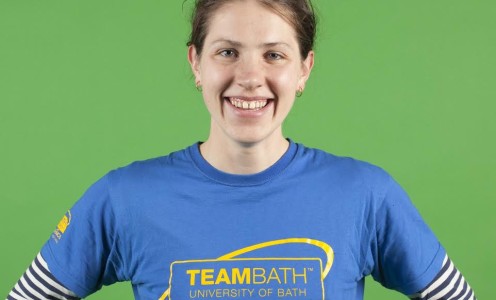 Amongst the outstanding athletes who have made the Sports Training Village their training base is Eva Piatrikova – a Slovakian swimmer-cum-triathlete with big ambitions of a future in sports performance.
Her past three years have been spent as an athlete, student and even a staff member at the University of Bath – years she describes as "the best decision I've ever made".
And now she is set to lead the largest Sports Performance conference the University has ever seen, featuring some of the world's leading experts in physiology, nutrition, coaching education, psychology and talent spotting.
"The 2016 Sports Conference is unique," she said of the event taking place on Friday, January 22.
"It is a world-class sports event that hasn't been delivered this way before – examining the theory-practice gap in sports performance."
At the age of just 19, Eva was ranked the third best Slovakian open category swimmer in 50m freestyle. She swapped her training base to the £30 million STV when she began her Sports Performance degree at the University in 2012 and hasn't looked back since.
"A world-class sports facility"
Faced with a number of options when deciding her future from Slovakia, Eva had to take into account a number of factors – including the sports facilities which would most benefit her future as an athlete.
"I'd never visited Bath but I'd heard of its reputation as a world-class sports facility.
"When I first arrived and looked around at the facilities, I was overwhelmed.  I was training in the swimming pool and I'd see Olympic swimmers in the same pool as me – even saying hello to me. That was something I'd never experienced.
"The University of Bath as a sports facility is significantly better than anywhere I've ever trained before."
Despite a switch from swimming after her arrival, Eva soon found success in triathlon where she hit the ground running.
"I started training at the STV for Olympic-distance triathlons and in my very first race I came first," she said. "After that, it wasn't a difficult decision to stick to competing as a triathlete.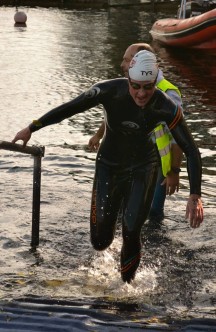 "I then became attracted to longer distance triathlon events like half ironman and ironman. The very first half ironman I competed in, I was the second fastest Slovakian with a time which would have qualified me for the World Championships for my age group.
"It surprised me how well I took to triathlon, swimmers aren't notoriously good runners."
But with no dedicated triathlon coach to guide her training, Eva turned to what she'd learnt through her studies to guide her strategy.
"My BSc Sports Performance degree was extremely beneficial for helping design my training schedule," she said. "I also received great help from the director of studies of my course, Nick Willsmer, as I had done throughout the course.
"It was one of the reasons I chose to study at the University of Bath – the Sports Performance course is unique in design. It allows you to balance your studies with training and it is individualised for each specific student athlete.
"It is also an extremely practical course which allows you to specialise on your specific sport or an area which is of interest to you. I have opportunities now that I could never have dreamed of before the course."
'Bridge the gap between research and practice'
Indeed it was the University's Sports Performance course which inspired Eva to take on her biggest challenge yet – organising a large scale conference for athletes, coaches, sports scientists and more.
Her Sports Performance Conference 2016 aims to bridge the gap between research and practice in sports performance.
"Practice and research are usually two separate entities when it comes to sports performance but this conference brings them together," she explained.
"Practitioners and sport scientists will work together to show coaches and athletes the root of the research which ultimately feeds their performance strategies. It also allows sport scientists to see what is actually feasible at the delivery end of the spectrum in a range of different areas.
"Both coaches and sport scientists can see the whole process in practice. Research should benefit sports performance – not just the researchers."
And when the conference gained royal recognition with a mention from Prince Edward, the Chancellor of the University of Bath, during a graduation ceremony this month, the news went a long way to proving the potential of the event.
"When I saw the conference gain royal reference, I was very, very proud because I really believe in the programme I studied and the quality of the conference we're going to deliver," Eva added.
For more information about the Conference or to register for it, visit www.sportsperfconf.co.uk.