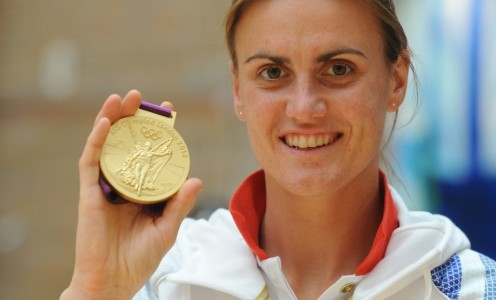 Olympic, World and European rowing champion Heather Stanning has praised the University of Bath after being named as Athlete of the Month by World Rowing.
In an interview with the sport's governing body, Stanning reflected on how she took up rowing while studying Sports Technology and how her degree has had a positive impact on her outstanding sporting career.
"I was identified by [coach] Paul Stannard for the [GB Rowing Team] Start Programme," she recalled.
"He was based at the University of Bath, where I had joined the boat club in my first year at university. I had initially started rowing to make new friends and try a sport I had never had the opportunity to do before, but once Paul asked me to join his training group I became a lot more serious about the sport.
"I studied Sports Technology mainly because I didn't get the grades to do Sports Science. I knew I wanted to do a degree in sport and at Bath Uni, so that was the course they offered.
"In hindsight it was very well-suited to me, as there was an engineering aspect to the course which I really enjoyed. I learned a lot about material science and also touched on medical engineering.
"Although it doesn't help me in the day-to-day training as an elite athlete, it does mean I have a better understanding of the equipment we use in rowing and how it has developed."
Stanning and fellow GB Rowing Team Start Bath graduate Helen Glover will be looking to defend their Olympic women's pair title in Rio this summer, having won every race together since 2011.
Click here to read World Rowing's full interview with Stanning or here to find out more about the GB Rowing Team Start Programme at the University of Bath.