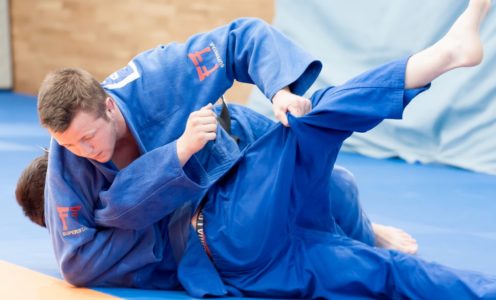 With 50 days to go until Rio 2016, Team Bath judoka Ben Fletcher today became the ninth University of Bath-based athlete to be officially selected by Team GB for this summer's Olympic Games.
The 24-year-old, who is coached by Juergen Klinger at the Sports Training Village, will compete in the men's -100kg weight category after being one of seven Brits to successfully qualify for the Games.
After a gruelling two-year qualification period that took him all around the world, Fletcher was able to secure a continental qualifying place and is now looking forward to making his long-awaited Olympic debut.
"It's fantastic to be selected for Rio," said Fletcher, who has fought back from a knee injury that forced him to miss the Glasgow 2014 Commonwealth Games.
"The last two years in particular have been very stressful, with loads of travel, so to actually go after such a difficult goal and achieve it is amazing. I can't really put into words what it means.
"I can't get too excited just yet because I've been selected for championships in the past and it's not quite happened for me further down the road but this is what I've been working towards for the past four years. When I finally get there and set foot in the Olympic Village, I will definitely feel excited!"
Fletcher has been based at the University of Bath for the past six years and is part of High Performance Judo Coach Klinger's training group.
"For all of us here in Bath, it is an absolutely exciting thing that Ben has been selected for the Olympic Games," said Klinger. "We have been trying really hard for a couple of years now to get someone to Rio and he has succeeded.
"It is not just Ben's achievement, it is an achievement of the whole group. The other athletes prepare him every day in training. The whole group has really pulled together and everyone is happy that Ben has been able to complete this phenomenal achievement. It is fantastic."
Stephen Baddeley, Director of Sport at the University of Bath, said: "All of us at Team Bath are delighted for Ben. Earning a place at Rio 2016 after such a demanding qualification period is a huge achievement, particularly after missing out on the 2014 Commonwealth Games through injury.
"His selection reflects well not only on Ben but on his coach, the high-performance judo group and the physios, sports scientists and strength & conditioning coaches here at Team Bath who helped him get back to full fitness."
Based on a traditional Japanese style, the Team Bath dojo has been a training base for some of Britain's top judoka.
Kate Howey won the second of her Olympic medals – silver in the -70kg weight category at the Sydney 2000 Games – while based at the Sports Training Village.
She is now an Elite Performance Coach with British Judo and coached fellow University of Bath Sports Performance graduate Gemma Gibbons to -78kg silver at the London 2012 Olympic Games.
Gibbons was coached by Klinger during her time in Bath and was one of two judoka with Team Bath links to compete in London, the other being Ghana's Emmanuel Nartey – he is still part of Klinger's training group and narrowly missed out on qualification for Rio 2016.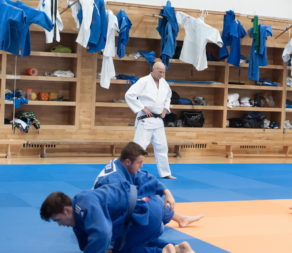 Fletcher is the ninth athlete based at the University of Bath to be formally selected by Team GB for Rio 2016.
Jazz Carlin, Siobhan-Marie O'Connor, Chris Walker-Hebborn and Andrew Willis – who all train with the British Swimming National Centre Bath at the Sports Training Village – were the first to be confirmed in April.
Last week saw Pentathlon GB's Joe Choong, Jamie Cooke, Kate French and London 2012 silver-medallist Samantha Murray selected to represent Britain in modern pentathlon.
Other selected athletes with University of Bath connections are Sports Technology graduate Heather Stanning and Helen Glover – the Olympic women's pair champions both began their careers on the GB Rowing Team Start Programme at the Sports Training Village.
Natural Sciences graduate and sailor Alexandra Rickham has been selected to race in the SKUD 18 class with Niki Birrell at the Paralympic Games. The five-time World Champions won a bronze medal at London 2012.