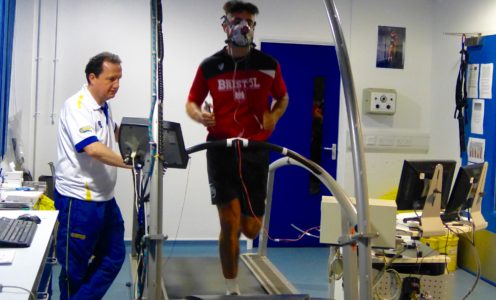 Football League Championship club Bristol City and Scottish Premiership outfit Partick Thistle are using the University of Bath Sports Training Village this week to begin their preparations for the 2016/17 season.
City's first-team squad are taking part in 'pre pre-season' testing, where staff from the Team Bath Physio & Sports Science Centre help the Robins' coaches assess the players' fitness after the summer break.
As well as cycling, sprint and physiological tests, City's players have also undergone Vo2 tests with Team Bath's sport scientists in the Human Performance Centre (pictured above).
Overseen by Lead Applied Physiologist Jonathan Robinson, the test measures an athlete's maximum oxygen consumption and heart rate as they run on a treadmill and is an indicator of aerobic fitness.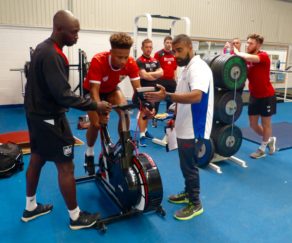 John Pemberton, City's assistant manager and first-team coach, explained: "The lads have been away but have each been given a programme to fulfil over the summer break. That means, when they come back, they should have a base level of fitness and these tests check to see they are where they should be.
"We have a six-week pre-season programme ahead and we have to make sure they are ready for it."
Pemberton, who first used the Sports Training Village facilities during his time as coach and manager of Nottingham Forest, added: "We've been coming here for three or four years now.
"The facilities are brilliant and it's nice to be able to interact with the other athletes who train here. I've been chatting with the British Skeleton coaching staff and asking them about their training programme, to see how they break theirs down. It's good to share ideas."
Partick Thistle's first-team squad are spending the week at the University of Bath as they prepare for pre-season matches at Cirencester Town on Wednesday and Bath City on Saturday.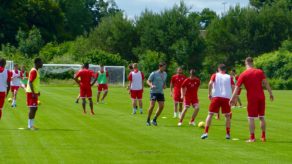 As well as training on the outdoor pitches and in the Team Bath Gym, the Jags are staying in accommodation on campus and eating meals in the Sports Café.
A number of football clubs have used the Sports Training Village facilities for training during recent years.
It is also home to the Southampton FC Academy that has produced such players as two-time Champions League winner Gareth Bale and Nathan Dyer, who won the Premier League title with Leicester City this season. Find out more about the Southampton Academy in this fascinating podcast.
The Human Performance Centre can be used by the public and offers a full range of tests, including muscle mass and body fat tests, and can even help people train for altitude, or benefit from altitude simulation, in the hypoxic chambers.
Click here for more information about physio and sport science at the Sports Training Village.