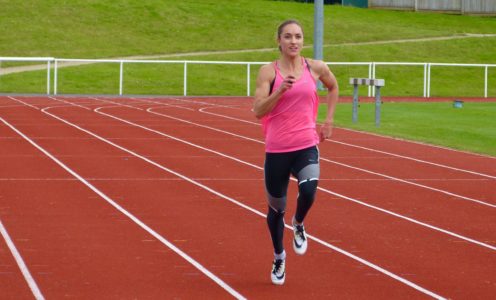 Sprinter Emily Diamond is benefitting from the ultimate long-distance learning course at the University of Bath as she prepares to make her Olympic debut at Rio 2016.
While the 25-year-old is based at the Sports Training Village, her coach for the past 12 months, Jared Deacon, lives in Scotland and works with Edinburgh Rugby.
But thanks to the wonders of modern technology, they have put together a training programme that has seen 400m runner Diamond regain her sparkle after missing the whole of 2015 through injury.
She has taken seven-tenths of a second off her personal best and ran inside the Olympic qualifying time on three occasions, including when she won gold at last week's British Championships to secure her Rio place.
"It feels amazing, I still can't quite believe it," said Diamond, who will represent Britain in the women's 4x400m relay at the European Championships in Amsterdam this weekend.
"I'm just trying to get my head round the fact I'm going to be on the start line for Team GB in an individual event. It's a dream come true and I'm so excited, I can't wait to get out there.
"I worked with Jared when I was studying at Loughborough and was successful with him. I decided after all my injury struggles last year that I needed to work with someone who knew me really well and that's why I thought Jared would be the perfect coach but the tricky thing is he lives in Scotland, which was far from ideal.
"Fortunately we are both very organised and very studious, so we have made it work, We are on the phone and Facetime all the time. One of the coaches here at Bath, James Hillier, will film me doing blocks of training and then we send the footage straight across to Jared so he can look at it and give me instant feedback before I have to do my next rep.
"Technology means I can have a coach several hundred miles away and it's as if he is here."
As well as being an athlete, Diamond – who first started training at the University when she was 16 – works mornings as an administrator in the sports department at Prior Park College.
"I tried being a full-time athlete – not having a day job, being able to train when I wanted to – and I didn't really enjoy it," she said.
"I'm one of these people who needs to be doing something, I can't just sit at home waiting for training. The fact I'm able to go to work in the mornings and interact with non-athletes is nice, it's a mental time-out from the sport which I personally feel massively benefits me."
Diamond was one of four University-based athletes to qualify for Rio by winning gold at the British Championships, along with Eilidh Doyle (400m hurdles), Andrew Pozzi (110m hurdles) and Jazmin Sawyers (long jump).
"That is fantastic for the University of Bath," said Diamond. "Having not only British Champions but future Olympians training here can only be good for the venue."
Want to train on the same track as Olympians and Paralympians? Click here for more information about Team Bath Tribe athletics camps during the summer holidays!