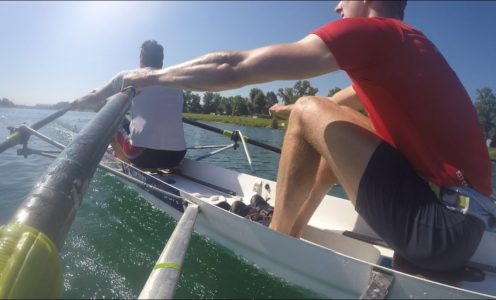 Rowers at the University of Bath have been making an impact on the national and international stage during a busy summer of racing.
Students Luke Gwenter and Tom Mapp represented the GB Universities Rowing Team at the European Universities Games in Zagreb, Croatia, finishing a fine eighth overall in the men's double scull.
They were also part of the Bath University Boat Club men's eight that qualified for the Temple Challenge Cup at the prestigious Henley Royal Regatta.
The crew beat University College London BC in their opening race at the regatta itself before putting up a good fight against a well-drilled Columbia University eight from the United States in the second round.
The Henley Women's Regatta saw student Laura Macro reach the quarter-finals in the senior lightweight women's singles, as did Minerva Bath's Steph Clutterbuck and York University's Faye Ballie in the senior doubles.
Clutterbuck then represented Wales at the Home International Regatta in Cardiff, claiming victory in both the women's four and women's quad.
Jens Hullah became the latest GB Rowing Team Start rower from Bath to represent his country after successfully qualifying at junior trials to compete in the men's single scull at the annual J16 junior match against France.
The 16-year-old then won two bronze medals in the space of an hour at the Junior British Championships, one in the single and the other in a composite quadruple scull.
Hullah joined the Start programme – overseen by Head Coach Dan Harris and based at the University of Bath and Minerva Bath RC – two years ago after attending talent ID sessions at the Sports Training Village.
Graduates of the Lottery-funded scheme include Olympic women's pair champions Helen Glover and Heather Stanning. They, along with Vicky Thornley, are currently finalising their preparations for the Rio 2016 Olympic Games.
For more information on the GB Rowing Team Start programme at the University of Bath, visit http://www.teambath.com/sport/rowing/
Crew Bath tweeted the above picture of Luke Gwenter and Tom Mapp in the men's double scull at the 2016 European University Games