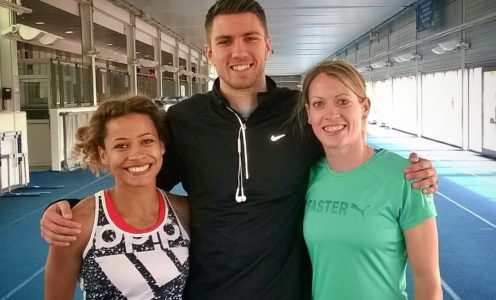 Legendary athletics coach Malcolm Arnold has famously guided the likes of Jason Gardener, Colin Jackson and John Akii-Bua to Olympic medals during an incredible career spanning nearly 50 years.
Now hurdlers Eilidh Doyle and Andrew Pozzi are looking to join that list of greats as they finalise their Rio 2016 Olympic Games preparations at the University of Bath.
Both admit it was the opportunity to work with Arnold – Head Coach of the UK Athletics Regional Performance Centre in Bath – that first brought them to the Sports Training Village six years ago.
They are now heading to their second Games on the back of being crowned British champions in the 400m hurdles and 110m hurdles respectively. Both have smashed their personal bests this season, with Doyle also winning her third European crown in the 4x400m relay.
"I am more confident going into Rio than I was before London 2012, I feel like a completely different person," said Doyle, who gave up a PE teaching job in her native Scotland to train full-time with Arnold.
"London as an experience was quite overwhelming but having gone through that, I know what to expect now. The last couple of years, where I have gone to big championships and run well, just adds to that confidence.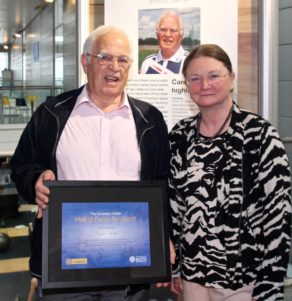 "I first began training in Bath in 2010. I was running quite well but felt like I needed a specialist hurdles coach. I'd met Malcolm a couple of times at different events, so I rang him and asked if he'd be willing to coach me – thankfully he said yes.
"Malcolm is such a good coach, I just get so much from him. Before it used to be a case of Malcolm telling me what to do and how to train, now it feels like a partnership and we discuss training. I trust him completely and it works.
"There's just a really nice, relaxed atmosphere in the training group and at the University. Everything is here and everything is near – the tracks, the gym, the physios, soft-tissue therapy, hydrotherapy, all you need. It just makes our jobs so much easier."
Training partner Pozzi has developed under Arnold from Britain's fastest-ever junior sprint hurdler into an outstanding senior athlete, despite a succession of injuries that hampered his career between 2012 and 2015. His time of 13.19 at last weekend's Anniversary Games in London put him fourth on the all-time UK 110m hurdles ranking list.
"Malcolm has been coaching here at the University since 1998 and was the main driver behind me coming here, his training is the best you can find in the world," said Pozzi.
"Malcolm has been a professional coach for something like 50 years and has so much experience and knowledge for me to draw upon. He has seen so many different scenarios with so many different types of athletes. He is also a very direct character, which I like."
Rio 2016 will be the 13th Olympic Games in which athletes coached by Arnold – a recent inductee into the University of Bath Hall of Fame for Sport – have competed. Long jumper Jazmin Sawyers, who is also heading to Brazil as British champion, does some of her training with his group.
Pictured top are Jazmin Sawyers, Andrew Pozzi and Eilidh Doyle at the Sports Training Village indoor running track