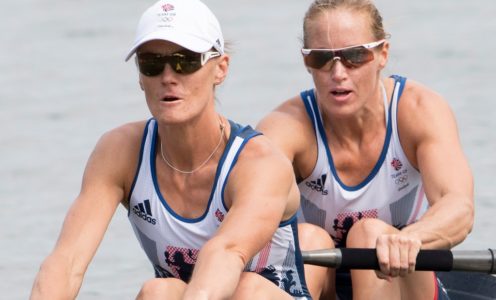 "We did what we needed to do" – that was what defending champions Helen Glover and Heather Stanning had to say after progressing to the women's pair semi-finals at the Rio 2016 Olympic Games.
The London 2012 gold-medallists, who both learnt to row at the University of Bath, are unbeaten in the pair since 2011 but saw that record put under threat by Denmark's Hedvig Rasmussen and Anne Andersen in Monday's heats.
The Danes led until the closing 200m when Team GB's Glover and Stanning were finally able to push through and take victory by two-tenths of a second, securing a good lane in Wednesday's semi-finals (2.30pm).
Sports Technology graduate Stanning said: "I think we were just getting out and getting our first race done. It probably wasn't the first race people expected to see but it's the Olympics and everyone steps up their game.
"We won, we did what we needed to do and we are into the semi-final. It is all about the final at the end of the day and we have to make sure we get there in good shape.
"It doesn't matter if we are unbeaten or not. Obviously that is a nice statistic to have but I think other people get excited about it more than we do, as long as we win the important races that's what really matters to us.
"We have done a lot on our last 250m, not that we have ever had to use it, so why not put it to use when you can? It gives us a lot of confidence that we do have a last 250m that we can execute well regardless of where we are.
"There was a sense of urgency but it wasn't frantic or anything and Helen was just relaying to me what we needed to do.
"The expectation we have on ourselves is far greater than what is put on us by other people, but certainly there is a lot more interest in us and how we are going, but we need to ignore that and ensure we sit on the start line in the best frame of mind we can."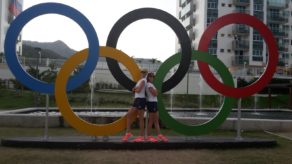 Glover – who, like Stanning, is a graduate of the GB Rowing Team Start talent development programme at the University of Bath – added: "If that was a training row we would probably say 'where can we step up from that?'.
"If we were to go out and row that again there would probably be changes but it definitely wasn't a bad row. It was exceptional either, it was just a row in a heat.
"We could have definitely rowed better but we certainly didn't row badly. In terms of the margin, that's the tightest time we have had, but there has definitely been harder-fought races.
"On time and in terms of not leading through certain markers that was our hardest race, but we have definitely experienced having to dig in deeper before."
Fellow Bath Start graduate Vicky Thornley will be looking to book her place in the women's double scull final on Tuesday – she races alongside defending champion Katherine Grainger in the semi-finals at 2.20pm BST.
Find out more about the GB Rowing Team Start programme at the University of Bath by clicking here.
Picture of Helen and Heather copyright of Peter Spurrier/Intersport Images.