University of Bath graduate Heather Stanning has brought the curtain down on a stellar rowing career that saw her win two historic Olympic gold medals.
She was also crowned as double World and European Champion after forging an outstanding women's pair partnership with Helen Glover, with their London 2012 and Rio 2016 successes part of an incredible 39-race unbeaten run stretching back to 2011.
Now Stanning – who first picked up an oar when she started studying Sports Technology at the University in 2003 – has decided to call time on her sporting career to focus on her military commitments as a Major with the British Army.
"I started rowing for the social and fun side of the sport at University but [coach] Paul Stannard showed me I had potential and guided me through my early years, at U23s and then onto the senior team," said Stanning, who was crowned as World U23 Champion with pairs partner Olivia Whitlam in 2007, the summer she graduated from Bath.
"Winning with Olivia at U23s sparked a desire within me to aspire for bigger things.
"I must also thank Eira Parry and Miles Forbes-Thomas for their help and coaching as Helen and I started out with the team but partnering with Helen and [coach] Robin Williams has been the dream career. I could not have wished for anyone else to share the Olympic journey with."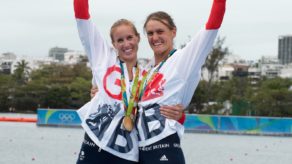 Stanning and Glover first met in February 2008 after the latter began training with the GB Rowing Team Start talent ID and development programme at the University of Bath.
They progressed into the senior GB Rowing Team the following year and were selected for the women's pair, immediately forging an impressive partnership that saw them win silver at both the 2010 and 2011 World Championships.
That 2011 race was the last time Stanning and Glover tasted defeat as they dominated their class and in 2012 they became the first British female rowers to win a gold medal – it was also Team GB's first of the London Games.
Stanning took a year out to focus on her military career, serving in Afghanistan during 2013, before returning to win the World title with Glover in 2014 and 2015.
They also won European gold in 2015 and 2016 before becoming the first British female rowers to successfully defend an Olympic title at the Rio Games.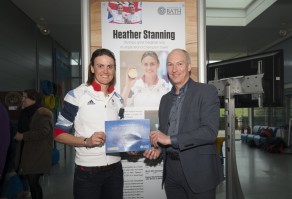 Throughout her career, Stanning has spoken proudly of the role the University of Bath played in her success and returned to the campus last month to take part in the Rio 2016 medallists celebration.
She was also inducted into the University of Bath Hall of Fame for Sport in March, saying: "There are some great athletes who have been to the University of Bath, so to be up there with them is a proud achievement
"It only feels like yesterday that I left this place. It was here that my Olympic dream started."
Stanning, a winner of the Tugendhat Trophy at the 2008 Blues Awards, has attended multiple functions to assist the University in promoting itself and in supporting the community.
In recent years she has also provided accommodation at her home near Caversham – the location of GB Rowing Team's national training centre – for current University of Bath athletes taking part in trials and is always happy to offer them advice.
The University of Bath-based Start programme is searching for more potential Olympic rowing champions. Think you have what it takes? Click here for more information.