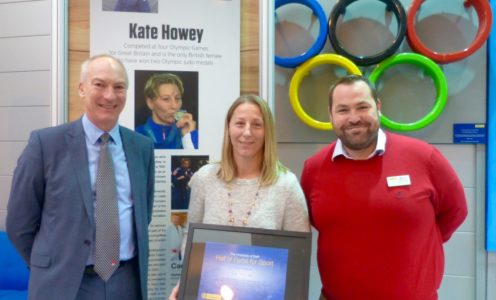 Kate Howey, the only British woman to have won two Olympic judo medals, returned to her former training base today to become the latest inductee into the University of Bath Hall of Fame for Sport. 
Howey won bronze in 1992 at Barcelona and silver in 2000 at Sydney – the latter while studying Sports Performance at the University – before carrying the British flag at the Athens 2004 opening ceremony, her fourth Games.
She was also crowned as World Champion during her career and is still heavily involved in the sport – she coached fellow University of Bath alumna Gemma Gibbons to Olympic silver at London 2012 and was part of Team GB's judo management team at the Rio 2016 Games.
"I'd like to say what an honour it is to be inducted into this Hall of Fame alongside so many people I would class as sporting idols, both as athletes and coaches," said Howey.
"Whenever I come back here, I walk past the Hall of Fame and see the names that are there. They have all done amazing things and it is an immense honour to be part of that esteemed group.
"I have been a student, athlete and coach here and I must thank the University for supporting me in all of those roles. There are some amazing facilities here and the dojo is probably the best in the country, so thank you again to the University for making that happen."
Howey was inducted into the Hall of Fame by University of Bath Director of Sport Stephen Baddeley in a ceremony attended by Team Bath's current high-performance judoka, including Rio 2016 Olympian Ben Fletcher.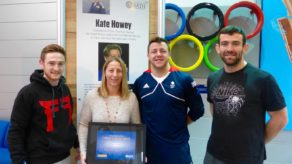 "Winning or coaching an athlete to an Olympic or Paralympic medal is not sufficient on its own to get you into the Hall of Fame, you have to contribute more and Kate has certainly done that," said Baddeley.
"Like all of our other inductees, Kate has put a great back into the sports community here at the University and in Bath. She came here before the Sports Training Village as it is now was built and just as high-performance sport was really starting to develop.
"Kate's achievements helped to raise the University's sporting profile and she worked really hard to help create an outstanding dojo, which I know is appreciated by the current judo squad."
Howey announced herself as a major judo talent when was crowned as World Junior Champion in the middleweight category in 1990, the same year that she won the first of her eight European Championships medals.
Two years later, aged 19, Howey won bronze on her Olympic debut in Barcelona and, after briefly retiring following the Atlanta Games in 1996, she returned in style by winning World Championship gold in the -66kg category in 1997.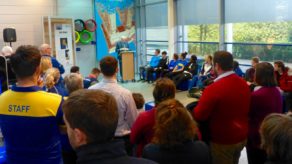 Howey moved to the University of Bath in 1999 when she began a Sports Performance Foundation Degree, making creative use of a squash court in the Founders' Hall for training until the current dojo was opened in the Sports Training Village in 2003.
During that time she made history by winning -70kg silver at Sydney 2000, a feat she repeated at the World Championships the following year. Howey also won bronze while representing the University and Great Britain at the 1999 FISU World University Championships.
After becoming the first British judoka to compete at four Olympic Games during Athens 2004, Howey – who was awarded an MBE for services to judo in 1997 – retired from competition.
However, she remains active in the sport and was a Regional Development Officer before becoming a High Performance Coach and guiding Gibbons, also a University of Bath foundation degree graduate, to Olympic silver in 2012.
Howey was part of Team GB's judo management team at the Rio 2016 Olympic Games, overseeing a squad which included current Team Bath judoka Ben Fletcher. She is a regular visitor to the Sports Training Village in her role as Elite Performance Coach with the British Judo Association.
She was also one of the early graduates of the UK Sport Elite Coach Programme, completing the programme in 2008 alongside names like Chris Boardman of cycling and Karen Brown of hockey.
Howey is the 16th inductee into the University's Hall of Fame for Sport and the eighth Olympic medallist, joining such illustrious names as Jason Gardener and Colin Jackson (athletics), Dr Steph Cook and Kate Allenby (modern pentathlon), Heather Stanning (rowing), Amy Williams (skeleton) and Paul Palmer (swimming).
The Hall of Fame for Sport recognises the outstanding and inspirational contribution made by athletes and coaches to sport at the University of Bath and Team Bath. Click here to find out more about it.
Want to find our more about the judo programme at the University of Bath? Click here for further details.
The top picture is of Kate Howey being welcomed into the University of Bath Hall of Fame for Sport by Director of Sport Stephen Baddeley (left) and Deputy Director of Sport Greg Sharp (right).