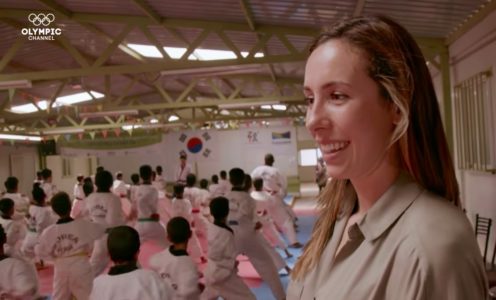 Olympic silver-medallist Samantha Murray has paid an emotional visit to a refugee camp in Jordan to see how sport is having a positive impact on the lives of people displaced by the civil war in Syria.
The University of Bath French & Politics graduate, who trains with Pentathlon GB at the Sports Training Village, is one of four Olympic athletes to take part in the Olympic Channel's Camps To Champs documentary series.
Shortly before competing at the Rio 2016 Games, Samantha flew out to the Zaatari refugee camp located just 6km from the Syrian border and the current home of around 80,000 people.
While there she got to watch youngsters competing in freestyle wrestling, presented medals to winners of a table tennis competition, joined in a girls' football game and saw a taekwondo grading event featuring both boys and girls.
"I couldn't believe I'd stepped into that world and experienced it," said Samantha. "You would never think from the media that sport could in some way be related to the lives of these people.
"I knew the worth that sport has in society and how it can help people with confidence and social skills. However, until my experience at the camp, I never realised that it was used in such a productive way.
"Sport is an excellent tool for you to grow as a person, for you to have fun and maybe just to forget what's going on around you."
You can watch the video in full below (click on the CC button to see subtitles) and read Samantha's personal blog about her experience by clicking here (external link).