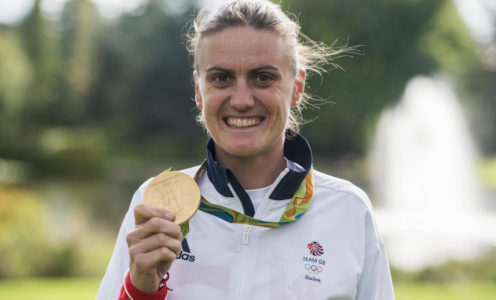 Heather Stanning, double Olympic rowing champion and University of Bath graduate, is swapping her oars for running shoes as she trains for this year's London Marathon in aid of a good cause.
Heather, a regular visitor back to Bath and a strong supporter of the University, is hoping that students, staff and the local community will get behind her efforts as she seeks to raise money for the Royal British Legion Industries (RBLI), not to be confused with the Royal British Legion, although they are sister charities.
The Sport Technology graduate will be the lone runner for the charity at this year's marathon and it's obviously something close to her heart.
Heather said: "The RBLI is a charity that provides employability, training and support to the Armed Forces Community and they run a package called LifeWorks which aims to help veterans who are struggling to find employment having left the Forces.
"The charity raises money by encouraging people to step outside their comfort zone to help others – and running a marathon is definitely very much outside my comfort zone!"
Heather learnt to row while at the University of Bath and successfully defended her Olympic title in Rio last year with rowing partner Helen Glover, who is also running the London Marathon on Sunday, April 23.
She is hoping there will be some residual endurance fitness from her rowing training but knows that, having not run for many years, her joints are not used to carrying the strain.
Heather is therefore mixing long sessions on the bike with three runs a week to help sustain her training as she tries to build up the endurance.
She added: "But the most important part of this process for me is to raise awareness of the charity and also some money – the physical part in theory should be the easy bit even if my body would beg to differ.
"Bit ironic really, an ex-athlete seeking to raise money to go training!"
If you feel you would like to sport Heather in her efforts visit http://uk.virginmoneygiving.com/HeatherStanning