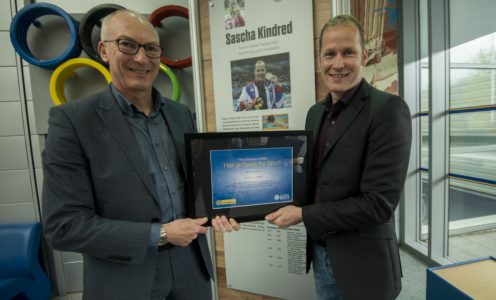 Seven-times Paralympic swimming champion Sascha Kindred returned to his former training base today to be inducted into the University of Bath Hall of Fame for Sport.
It was while training at the University that Kindred won the first two of his Paralympic gold medals at the Sydney 2000 Games – one of the key moments, he believes, in a stellar international career that started in 1994 and concluded with a world-record triumph at Rio 2016.
"It is obviously a massive honour to be inducted into the Hall of Fame, I have very fond memories of being based here," said Kindred, who was welcomed into the Hall of Fame by Director of Sport Stephen Baddeley.
"Back in 1999 it was a massive decision to move away from home and come down here but it was one that made me into the Paralympic athlete I have been over the years. I was based at a high-performance centre and it turned me into an elite athlete.
"This is where my career was kick-started. Previously I was training six or seven times a week, which was still quite a lot as a Paralympian, but once I came here the focus was purely on training and I was in the pool ten times a week. We had the physio and psychologist support as well and we had big names from other sports training here, so it was a really inspiring environment to be part of.
"Arguably Sydney was my best Paralympic Games in terms of results, performances and medals. I won four in total – two gold, one silver and one bronze – and I don't think I ever quite reached those levels again. That was down to being based here.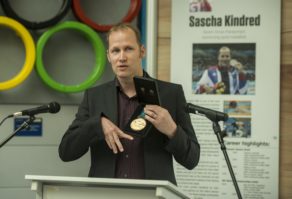 "I went to Atlanta in 1996 ranked number one in the world and came back with a silver. That was something to be proud of but I wanted to be a Paralympic Champion – those dreams were realised here."
Kindred was part of a group of para-swimmers, coached by Emma Patrick, who joined the Team Bath family in 1999 that also included Nyree Lewis, now his wife.
Both won medals at a hugely-successful Sydney 2000 for the training group, with Kindred striking gold in the 100m breaststroke SB7 and 200m individual medley SM6. He went on to defend those titles at both the Athens 2004 and Beijing 2008 Games before reclaiming his 200m IM crown at Rio 2016, smashing the world record in the process.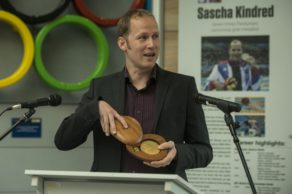 Kindred – who was awarded a CBE in the 2017 New Year's Honours list – has also won medals at seven IPC World Championships, eight of them gold, and six IPC European Championships, including his first international title back in 1995.
"When we asked fellow athletes, family and friends about Sascha, the feedback was remarkably consistent – this is a man, they said, who always has time for others, who cares and is a true role model," said Baddeley.
"Sascha is one of the nation's most successful Paralympic swimmers of all time. Over 23 years he won 62 international medals and he still holds 12 British records. His achievements at the Paralympic Games are truly phenomenal and we have no hesitation in inducting Sascha into the Hall of Fame for Sport."
Kindred is the 20th inductee into the Hall of Fame for Sport, which celebrates the outstanding achievements and contributions made by athletes and coaches at the University of Bath, and he joins fellow swimmers Paul Palmer and Mark Foster.
Click here to see all of the inductees and find out more about the Hall of Fame for Sport.