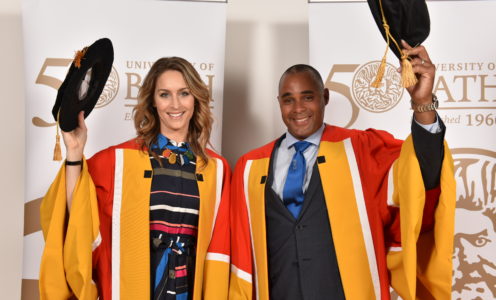 Olympic Gold medallists Amy Williams MBE and Jason Gardener MBE were today awarded honorary degrees from the University of Bath.
Amy, who won gold in the women's Skeleton event at the 2010 Vancouver Winter Olympic Games, has been honoured in recognition of her distinguished sporting career as a skeleton racer. Jason, known as the Bath Bullet, is an Olympic Gold Medallist, World and European Indoor Champion and has been honoured in recognition of his distinguished sporting career.
Both trained at the University during their illustrious careers and received their degrees in a ceremony attended by family and friends, as well as their former schoolteachers and coaches.
Jason said: "It is great that two local kids from Bath were able to reach the pinnacle of our sports and be crowned as Olympic Champions without having to move away from our city. Thank you to the University of Bath for the part you played and for recognising our success."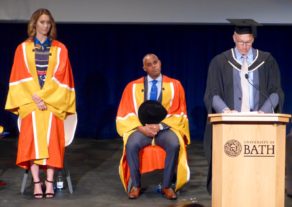 Amy added: "It is an honour to receive this recognition in the University of Bath's 50th anniversary year. Representing my city and my country has always meant a lot to me."
In winning gold, Amy became the first British athlete to win a solo Winter Olympic Gold medal in 30 years and the first by a woman for 58 years.
Amy started training at Bath in 2002, making use of the newly-installed push start track at the Sports Training Village, and completed a Foundation Degree in Sports Performance from the University of Bath in 2007.
Following winning Gold in Vancouver, Amy was awarded an MBE in the 2010 Queen's Birthday Honours and became the first-ever female Honorary Freeman of the City of Bath. Since retiring, she has enjoyed a number of successful careers including presenting on numerous TV shows, and hosting, presenting and speaking to many companies, businesses & schools. Most recently, Amy gave birth to her baby boy Oscar Nash and lives happily married in Bath with husband Craig Ham.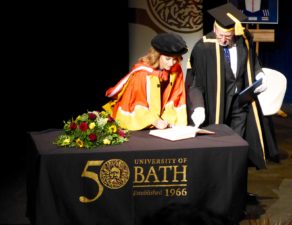 Amy said: "I'm flattered but delighted to be awarded an honorary degree. The University of Bath, and especially its outstanding sports facilities, has been a very important part of my life for many years, ever since my school days here in Bath. I could not have achieved what I did without the opportunities provided by the University."
Stephen Baddeley, Director of Sport at the University of Bath, added: "As a resident of Bath and a graduate of the University, Amy's historic achievement in winning Gold in the Winter Olympics brought immense profile and recognition to the University of Bath and it is highly fitting that the University is recognising her considerable contribution through the conferring of an honorary degree. I'm extremely honoured to have been selected to deliver her oration."
Jason won Gold in the 2004 Athens Olympics 4x100m relay and is the 2004 Budapest 60m World Indoor Champion and four time 60m European Indoor Gold Medallist (2000, 2002, 2005, 2007). Jason is also a member of the exclusive sub-10 second club for 100m having clocked a personal best of 9.98 seconds.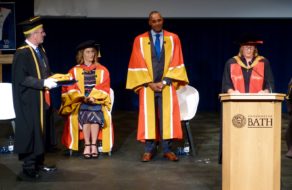 He began training at the University in 2002 under the tutelage of Malcolm Arnold OBE, one of the most successful athletics coaches in the world. In 2014, Jason was made an Honorary Freeman of the City of Bath and was inducted into the University of Bath's Hall of Fame for Sport, and was awarded an MBE for services to athletics in 2005.
Jason retired in 2007 and is currently President of UK Athletics. He also runs his own marketing consultancy agency, specialising in the Olympic and mainstream sports market, working with some of the world's most renowned brands. He is also a highly successful motivational speaker delivering engaging and inspiring speeches to a range of businesses and organisations.
Jason said: "I am delighted and honoured to be chosen to receive an honorary degree from the University of Bath for services to sport. I owe much of my successes to many people from the city of Bath and support staff at the University who have played an integral part in enabling me to reach the highest level in my sport, for which I am truly very thankful."
Stephen Baddeley added: "Perhaps the most important thing to say about Jason is how genuinely liked he is around the Sports Training Village to which he is a regular visitor. He is respected by our sporting community for his achievements and immensely popular amongst staff and members for his warm, friendly and charming character. I am delighted that he is being honoured with this well-deserved accolade."
Before receiving their Honorary Degrees, Amy and Jason acted as official starters for the Olympic Day Run at the University of Bath Sports Training Village – an annual celebration of International Olympic Day and the values of the Games.
Key Stage 2 pupils from four primary schools in Bath – Roundhill, Swainswick, St Philip's and Moorlands, Jason's former school – took part in the run during a day-long festival of sport at the University which also featured judo, softball, volleyball and trampolining.
Who more inspiring to officially start the 2017 Olympic Day Run at the University of Bath than local Olympic champions…

Posted by Team Bath on Friday, 23 June 2017