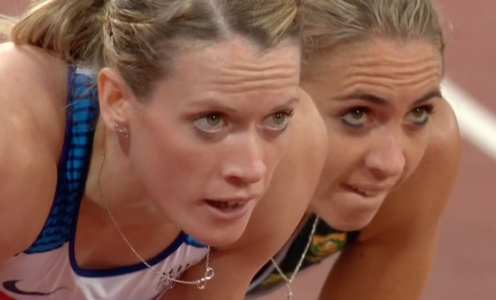 University of Bath-based Eilidh Doyle made an impressive start to her London 2017 IAAF World Athletics Championships campaign on Monday as she eased into the 400m hurdles semi-finals.
Danny Talbot also progressed with an excellent personal best in the 200m heats but fellow Sports Performance graduate Jack Green missed out on a place in the 400m hurdles final.
Doyle, coached by Brian Doyle at the Sports Training Village, needed a top-four finish in her heat to automatically progress and achieved that by producing a controlled performance in the outside lane.
Easing up in the closing stages, she crossed the line in third place in 55.49 to book her place in Tuesday's semi-finals where she will once again be in the outside lane (8.55pm).
"It's been nerve wracking getting out there – I just wanted to get the first round out of the way and get that secure qualification," said Doyle, who is British Athletics Team Captain at London 2017.
"I spent the last few days just watching everybody and it's made me hungry to get out and have my own shot.
"The support was amazing, I couldn't even hear my name getting announced because of the cheer. It was just incredible."
Eilidh Doyle is safely through her 400m hurdles heat, and the @BritAthletics captain remains in confident mood. #London2017 pic.twitter.com/iMHwceNhIh

— BBC Sport (@BBCSport) August 7, 2017
Also providing the home crowd with plenty to cheer was Talbot, who raced shoulder to shoulder with South Africa's Wayde van Niekerk – ranked number two in the world this year – as he set a new personal best of 20.16.
"I think I'm in the best shape of my life so I'm just trying to go with it," said Talbot, whose semi-final is at 9.13pm on Wednesday.
"It's definitely the best season I've ever had and to be able to have that going in to a home World Championships is something you can only dream of.
"It's not over yet and my next focus is the semi-finals – I'll try and win that, then go from there."
Talbot combined training with studying Sports Performance at the University, as did Green who had mixed feelings after finishing fourth in his 400m hurdles semi-final in 49.93.
"I'm obviously very disappointed because I believed there was a strong chance of being a finalist here but I wasn't running that long ago," said Green, who is self-coached but receives support from James Hillier.
"I was taking a full break from everything and now I'm back here competing for my country which is what it's all about. In the end it was my highest finish at a Worlds but I'm also really disappointed because things have been going really well – welcome to sport."
Green will be back in action this weekend as part of the 4x400m relay squad that also includes current Sport Performance student Cameron Chalmers, who is supported by a Thompson Education Trust Sports Scholarship.
Interested in combining study and sport at the University of Bath? Click here for more information.