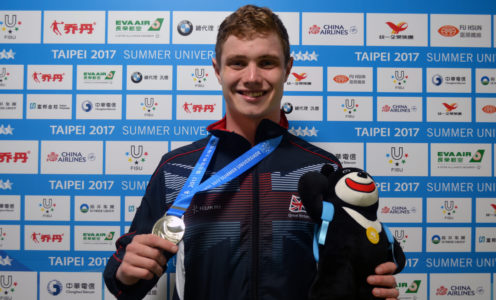 University of Bath swimmer Jay Lelliott won the third World University Games medal of his career as he took 400m freestyle silver for Great Britain on the opening day of the 2017 championships in Taipei.
However, the MJ Church ambassador – coached by Mark Skimming in the London 2012 Legacy Pool – said he was disappointed not to take the gold medal and defend the title he won in South Korea in 2015.
Lelliott, who graduated in Sports Performance last month, set the fastest qualifying time of 3:48.30 in the morning's heats but had to settle for second place in Sunday's final behind Ukraine's Mykhailo Romanchuk, who set a new Universiade record of 3:45.96.
"The heat went great, I felt in a really good position after 250m and was able to shut it down a bit, but in the final I couldn't quite get the catch of my stroke and I struggled a bit," said Lelliott.
"I'm upset about that, I wanted to go quicker, but what's happened has happened. I felt like I was capable of more and it's a bit of a shame that I couldn't quite execute today but hats off to Mykhailo who was brilliant today."
Lelliott was back in the pool on Monday morning and qualified for the 1,500m freestyle final with a time of 15:13.05, the seventh-fastest of the heats.
The 1,500m freestyle final will take place at 12.02pm BST on Tuesday, with Lelliott also taking part in the 800m freestyle heats on Wednesday – he won a silver medal over that distance in 2015.
Training partner Anna Hopkin, who studies Sport & Exercise Science, narrowly missed out on a podium place as part of a British 4x100m freestyle relay quartet that finished fourth in Sunday's final.
Their time of 3:40.86 was just eight-tenths of a second behind the United States, who took bronze behind Canada and the Russian Federation.
Hopkin fell short of a place in the individual 100m freestyle final after finishing sixth in her semi-final on Monday in 55.72. She had earlier finished third in her heat in 55.60.
Fellow Sport & Exercise Science student Emma Hurst, who is supported by a Trendell Sports Scholarship, made an eye-catching start to her women's singles tennis campaign on Monday.
She lost just nine points during her match against Sri Lanka's Madawee Liyanage as a 6-0 6-0 victory set up a third-round meeting with Alexandra Grinchishina of Kazakhstan.
On the football pitch, Sport & Social Sciences student Emily Donovan was in the starting XI for the Great Britain women's team during a 3-1 defeat to South Africa in their opening match.
They will be hoping to bounce back when they take on the Russian Federation in their second Group D match at 12.30pm BST on Tuesday.
The World University Games is the world's second-largest multi-sport event, after the Olympic Games, and the University of Bath is represented by seven athletes – Lelliott and Hopkin (swimming); Hurst and Luke Johnson (tennis); Jenny Nesbitt and Jacob Paul (athletics); and Donovan (football) – plus four support staff – coaches Mark Skimming (swimming), Barry Scollo (tennis), Corinne Yorston (football, strength & conditioning) and Jack Dawkins (physio) – at this year's event.