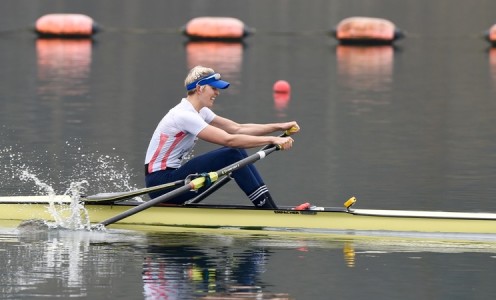 Former University of Bath-based rower Vicky Thornley helped the GB Rowing Team finish the 2017 World Championships on a high note as she won women's single scull silver in Sarasota, Florida on Sunday.
Thornley, who learnt to row with the highly-successful GB Rowing Team Start Programme at the University, finished runner-up to Jeannie Gmelin of Switzerland to add to her European Championships gold and two World Cup medals during an excellent 2017.
"I'm really happy with that," said Thornley, who returned to the single scull this year after winning Rio 2016 Olympic silver in the double with Katherine Grainger.
"If you'd have said at the start of the season that I would come away from the Worlds with a silver medal I would have taken it.
"This is right up there for me and after the Olympics this is my best result. I'm definitely happy after that one."
Fellow Bath Start graduate Sam Courty marked her senior World Championships debut by helping a young women's four to victory in the B final, meaning they finished seventh overall.
Like Thornley, Courty made the switch from equestrian sport after being identified as having the attributes to enjoy a successful rowing career. She developed those skills at Bath under the guidance of coach Dan Harris while also studying Sport & Exercise Science, graduating from both the Start programme and the University of Bath in 2015.
Anyone who thinks they have the potential to be a champion rower is invited to try out for the Bath Start programme – click here for more details.