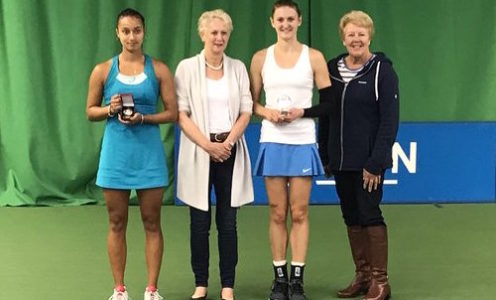 Samantha Murray and Amelia Bissett won two titles apiece and there was more doubles success for Luke Johnson and Richard Gabb as Team Bath MCTA Tennis players continued their excellent form.
Murray (pictured left), fresh from winning the women's doubles at the Joue-Les-Tours tournament in France, dominated the ITF Futures event in Wirral and dropped just one set on her way to securing the singles crown.
An opening 6-4 6-0 win over Rosalie van der Hoek of The Netherlands was followed a 6-3 6-4 victory over fellow Brit Anna Loughlan and a 6-3 6-4 success against Lena Rueffer of Germany.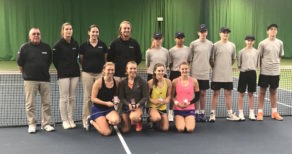 Murray – coached by Dave Sammel and Ian MacDonald at the University of Bath – lost the opening set of her semi-final against Maia Lumsden before hitting back to win 3-6 6-4 6-3, then wrapped up the title with a 6-2 6-2 victory over Britain's Eden Silva.
It was a similar story in the doubles where Murray and partner Lumsden eased through the first two rounds before overcoming Silva and University of Bath student Emma Hurst, a Trendell Sports Scholar, 10-8 in a hard-fought third-set tie-break in the semi-final.
They then clinched the trophy with a 6-4 6-3 win in the final against Alicia Barnett and Laura Sainsbury, who also access the Team Bath programme.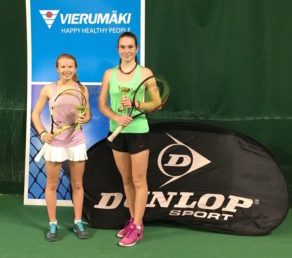 It has been a rewarding trip to Israel for Johnson and Gabb, who followed up their men's doubles victory in last week's F13 Futures event with another title success in a F14 competition.
They lost just three games in their two opening matches before overcoming Ireland's Julian Bradley and Winston Lin of the United States 7-5 7-6(4) in the semi-final.
Johnson and Gabb then wrapped up another impressive week with a 6-4 7-6(2) victory over Argentina's Matias Franco Descotte and Hugo Voljacques of France.
On the junior circuit, 14-year-old Bissett won the first ITF singles title of her career by beating number one seed Ekaterina Shalimova of Russia 6-2 6-3 at the Vierumäki Dunlop Junior Cup in Finland.
The Ralph Allen School pupil, coached by coached by Eve Hughes and Craig Procter, was in outstanding form all week and raced through the opening rounds before recovering from losing the first set of her semi-final to beat Estonia's Lissi Kubre 5-7 7-6(5) 6-0.
Bissett, from Devizes, then teamed up with Morgan Cross to dominate the women's doubles competition. They dropped just one set on the way to the final, where a 6-2 6-1 win over Russia's Alisa Budanova and Ella Haavisto of Finland secured more silverware.
Team Bath duo Joe Leather and Yusuke Tamaki went close to adding to the trophy collection as they reached the final of the Bahrain ITF Juniors Championships, only losing out 11-9 in a third-set tie-breaker to India's Mann Shah and Aaryan Zaveri.