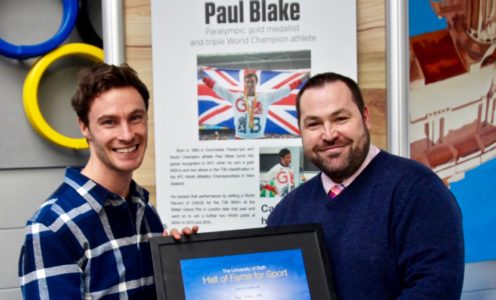 Paralympic gold-medallist and multiple World Champion Paul Blake today became the latest inductee into the University of Bath Hall of Fame for Sport.
The popular and inspirational athlete has been training with Rob Ellchuk at the Sports Training Village for the past eight years, enjoying tremendous success during that time.
His greatest moment to date came at the Rio 2016 Paralympic Games as he stormed to T36 400m gold. He won 800m silver too that year, adding to his 400m silver and 800m bronze from London 2012.
Blake, who has cerebral palsy, was also crowned World Champion in 2011, 2013 and 2015, captaining the British Athletics team at the latter event in Doha, and continues to compete at the very pinnacle of his sport with the 2018 European Para-Athletics Championships in Berlin, Germany, his next big target.
"It was a real shock when I was invited to join the Hall of Fame," said Blake. "As I come into training every day I walk past the display and see all the amazing athletes and coaches in there, so to be included in that group is an absolute honour and pleasure.
"I've been privileged to use the wonderful facilities here for the past nine years and I want to thank the staff for the amazing work they do day in, day out. I wouldn't be in this position without everyone's support and I am really thankful."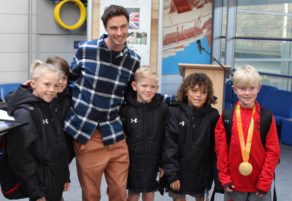 Deputy Director of Sport Greg Sharp, who conducted the induction ceremony, added: "There is a gentleness and warmth about Paul which is infectious and it is certainly why he is held in such high regard by all of us here at the University of Bath, particularly within the performance-sport family.
"He does not shout about his achievements, even if that is breaking world records or standing on the podium. He has a quiet, determined approach but if you watch Paul train and compete you will see another quality – he has a huge will to win and a drive to improve day by day."
Blake, whose mother was a dancer with the Royal Ballet and father is an actor who appeared in Star Wars, was awarded an MBE for services to athletics in the 2017 New Year's Honours List and an Honorary Blue from the University of Bath in 2011 in recognition of his World Championship performances earlier that year.
He is the 22nd inductee into the University of Bath Hall of Fame for Sport and the second Paralympic Champion, joining swimming legend Sascha Kindred in the hallowed ranks.
Ben Rushgrove, Blake's former training partner and a Paralympic medallist at both Beijing 2008 and London 2012, is also in the Hall of Fame along with Olympic Champions Dr Stephanie Cook (modern pentathlon), Jason Gardener (athletics), Heather Stanning (rowing) and Amy Williams (skeleton).