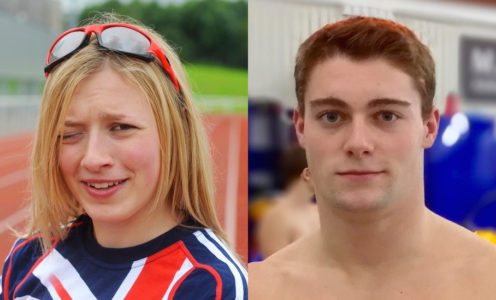 Athlete Katrina Hart and student-swimmer Miles Munro are the latest University of Bath-based sportspeople who will be heading to Australia in the new year to compete in the Gold Coast 2018 Commonwealth Games.
Both have previous Commonwealth experience, with former World Champion and Paralympics medallist Hart – coached by Rob Ellchuk at the Sports Training Village – having won T37 100m gold at the Delhi 2010 Games.
She will compete in the T38 100m in Australia after being named as one of 18 para-athletes in the Team England squad for the 2018 Games, which are taking place from April 4-15.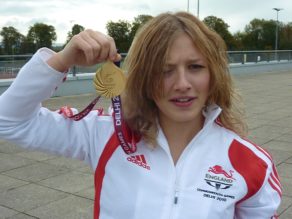 Munro, meanwhile, had just turned 18 when he represented his native Guernsey at the Glasgow 2014 Games, reaching the semi-finals in both the 50m freestyle and 50m butterfly.
He moved to the University of Bath the following month and has spent the past three years juggling an Integrated Mechanical and Electrical Engineering degree course with an intensive training programme as part of the student swimming group coached by Mark Skimming and Andrei Vorontsov.
That effort has been rewarded with a place in the three-man Guernsey swimming squad for next year's Commonwealth Games in Australia and Munro is looking forward to showing how much he has improved while training in the London 2012 Legacy Pool.
"It's going to be my second appearance at the Commonwealths for Guernsey and it's very exciting," he said.
"I was quite young when I raced in Glasgow. It was unlike anything I had experienced before but I was 12th in both the 50m fly and 50m free. Now I am coming back a lot stronger and quicker so I am hoping to make finals this time, really push my personal bests and be amongst the top swimmers.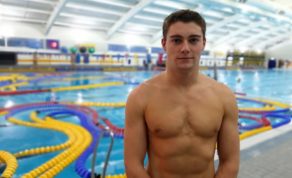 "I'm studying engineering so it's very full-on. You're looking at 30 hours a week for my swimming training and competing, which is almost a full-time job in itself, and then I have to balance a full-time course on top of that. It's certainly very demanding but it's all worth it when you get to go to the Gold Coast and compete in the Commonwealths."
Munro won't be the only University of Bath student representing Guernsey at the Commonwealth Games in April, with Sports Performance student Cameron Chalmers – supported by a Thompson Education Trust sports scholarship – having also been selected in the athletics squad.
"It will be great to see Cameron out there as well," said Munro. "It's not as big as other Games due to how far we're travelling but we've got some really good athletes in the Guernsey squad.
"There are around 30 of us in total and three of us swimming, so it will be good to have two team-mates poolside."
Munro is also hoping that some of his training partners will be able to book their trip to the Gold Coast when the Swim England National Winter Championships – doubling as a Commonwealth Games Trials – take place in Sheffield this week (December 13-17).
"It would be great to see a few more members of our training group qualify," said Munro, who is using the championships as part of his Gold Coast preparations.
"I've obviously already been selected but I'll be looking to make the criteria I would have needed for the England team. It will be a good benchmark."
Munro is the fourth University-based swimmer to be officially selected for the 2018 Commonwealth Games, with British Swimming National Centre trio James Guy, Siobhan-Marie O'Connor and Andrew Willis having already been named in the first wave of Team England call-ups.
Other University-based sportspeople heading to Australia in April so far are Chalmers, Emily Diamond, Tom Gale and David King (athletics), Kristian Callaghan (shooting) and Vicky Holland (triathlon).
The London 2012 Legacy Pool at the Sports Training Village, used by international swimmers heading to the Commonwealth Games, is also open to the public on a daily basis. Click here for more information.