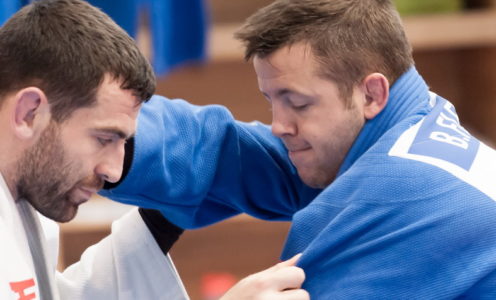 Team Bath judoka won three gold, two silver and five bronze medals during a successful weekend on both the national and international stage.
Rio 2016 Olympian Ben Fletcher marked his first appearance since switching his nationality to Ireland in style as he took the men's -100kg title at the Hong Kong Asian Open.
The MJ Church ambassador was in fantastic form as he beat South Korea's Kim Nohyeon and Kim Min Sung in the quarter-final and final respectively, overcoming Australia's David Russell in between those contests.
Sister Megan Fletcher, the Glasgow 2014 Commonwealth Games champion, was crowned as national champion in the women's -70kg category when she competed at the Irish Judo Association's All-Ireland 2017 event.
She is one of 12 athletes to have been awarded an Olympic Solidarity Scholarship by the Olympic Council of Ireland to assist with qualification and preparations for Tokyo 2020.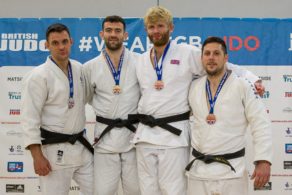 There was more Team Bath success at the British Judo Championships in Sheffield, where Adam Hall won his first national title in the men's -100kg category.
Sam Potts and Harry Boby won men's -90kg silver and bronze respectively, while Renz Vallejera took bronze in the -60kg division.
Army judoka Alex Paske, who trains with Team Bath and is supported by the Talented Athlete Scholarship Scheme (TASS), and Conor Murphy were also on the podium in the -73kg and +100kg competitions respectively.
The junior events saw Oliver Nash win -73kg competition win silver after a competition that saw him have to fight twin brother Tom, who finished fifth overall. Their bout went to a golden score and lasted nearly ten minutes before Oliver finally got the edge.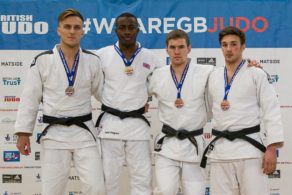 Chandler Hill, who has just completed the Advanced Apprenticeship in Sporting Excellence (AASE) programme, won -81kg bronze and Harri Stone was fifth in that category.
Juergen Klinger, High Performance Judo Coach at the University of Bath Sports Training Village, said: "It is the first time we have had four juniors rank so highly at the British Championships and it shows the strength of the group underneath the high-performance athletes.
"Having six podium places in the Senior Championships, even with the likes of Ben and Megan now representing Ireland, also demonstrates how stable and productive the high-performance programme is.
"I am really happy for Adam winning his first British title, he fought really well. He has a big passion for judo and a big solidarity with the Team Bath programme, so this is a well-deserved step forward for him."
Pictured top: Adam Hall and Ben Fletcher training in the Team Bath Dojo. Click here for more pictures from the British Judo Championships.