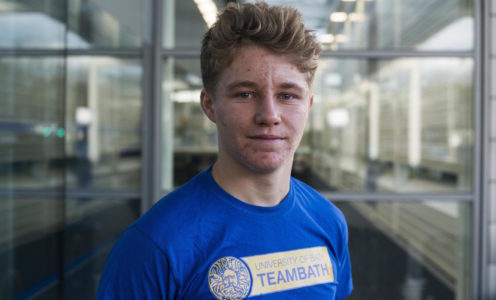 Having gained his first Great Britain international hockey experience and won a major award during 2017, University of Bath student Tim Nurse is ready to continue both his sporting and academic education in the new year.
The highly-rated 18-year-old will fly out to Portugal on January 2 for a four-day warm-weather training camp in Lisbon with the GB Men's Elite Development Programme, a new scheme aimed at developing medal-winning Olympians of the future.
It is the first in a series of twice-monthly training camps that Nurse, who is supported by a King Sporting Scholarship and the Team Bath Dual Career programme, will attend during 2018 and he is looking forward to benefitting from more elite coaching.
"We are the effectively the squad below the GB seniors, so I will be training alongside some really good players," he said. "Some of them are over the age of 21 and have already had trials for the seniors, so it's a big step up from what I have been used to.
"Primarily my age group will be working towards the 2019 Junior World Cup but the ultimate goal is to get into the seniors and go to the Olympics, that has been my ambition for a long time."
Nurse first took up hockey aged ten after being invited to give it a go by a friend at Ballard School in Hampshire. He soon displayed a natural aptitude for the game and recalls: "I didn't take it that seriously until I was about 12 when someone suggested that maybe I should!"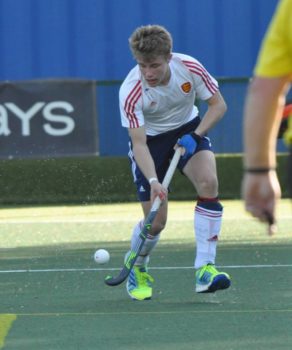 He went on to win numerous caps for England at U16 and U18 level before receiving the 'Youth, Boys 18 and under' accolade at this year's Hockey Writers' Club Higgins Group Youth and Junior Player of the Year Awards.
"I didn't expect that at all but it was quite an honour," said Nurse. "It is voted for by current and former England internationals and some of the previous winners have gone on to become world-class players."
That wasn't the only pleasant surprise for Nurse during 2017 as he was also selected to represent GB U21s at the prestigious Sultan of Johor Cup in Malaysia, helping his country win a silver medal in October.
"My parents were planning to go on holiday that week and I told them to go ahead and book as I didn't think I'd be going to Malaysia," he said. "I had to call them to say I was going after all – they still went on holiday!
"Being part of the Sultan of Johor Cup was a great experience and has really set a platform for me."
Competing in Malaysia meant Nurse was away for much of the first month of his new Sports Performance course but he has now had chance to settle into University life and is enjoying both the course and the hockey programme.
"Jody Paul, who is the Head Hockey Coach here at the University, was also my coach for the two years I was in the England U18 squad and I get on really well with him," said Nurse, who plays for both the University and Team Bath Buccaneers hockey clubs.
"We spoke a lot about the set-up here and it just seemed the perfect place for taking my career forward. I also spoke to Peter Scott about his experience here – he is doing the same course and is now part of the senior England squad.
"The Sports Performance course is ideal too as you can tailor it to your sport, so I'm learning a lot about myself and things like tactical knowledge or new ways of working with my coach. A lot of us on the course are playing sport to a very high level and the lecturers are very understanding and supportive."